Relax! With love, from London. xox
So, here I am. Still bedridden, but this time in London. The flight here was a nightmare. I was in so much pain I seriously regretted not staying put in Madrid. No matter how I sat during the flight, or if I stood up, the pain in my back, both hips, (yes, I now have pain on both sides), and all down my left leg, was absolute torture. God bless airport assistance for their help!
Now I'm dreading the flight back. Although it's wonderful to be in London, and part of me wishes I was back for good, this holiday has been a bit naf for me. It's just crappy being stuck in bed all day with crippling pain, instead of being out there taking-in and enjoying this wonderful, amazing. and exciting city! Plus, it looks like my mum has a chest infection, and
that
is contagious! Let's hope her germs stay well away from me. I already have enough health issues as it is, thank you very much!!!
I hope you beauties are enjoying the holidays more than I am!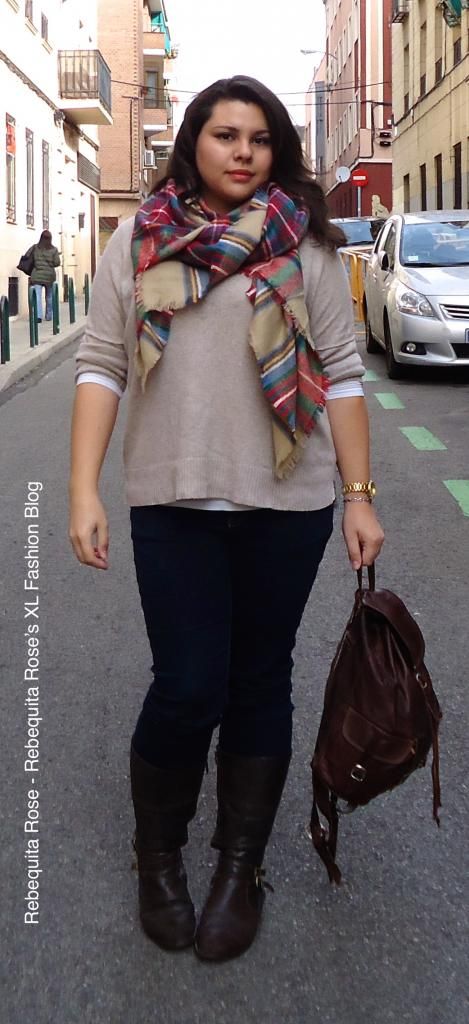 I am currently obsessed with this scarf. Like, obsessed! It is so pretty, so soft, so warm, and so timeless. I wear it all the time as it matches with almost everything!
I wanted to share with you what I think is a classic, timeless, pretty and comfortable-to-wear winter outfit. I have trouble finding jumpers that don't make me look like a fluff ball on legs, and I'm sure that's an experience all you curvy-sisters out there can relate to! This jumper is almost perfect. I wish it was a bit longer on my torso, but other than that, I love it. It wasn't expensive, but it looks expensive, and to the touch it is really soft. And of course, as a neutral, it matches with almost everything you pair it with!
Navy blue jeggings - From Mercadillo de Majadahonda (Madrid)
Brown Leather back bag - From Mercadillo de Plaza España (Madrid)
White top and part-cashmere jumper - H&M (Madrid)
Brown riding boots - Evans (London)
Scarf - Klasse (Madrid)
These photos were taken in Madrid
, before my back got seriously bad. I took many photos of several outfits that I never posted, and then my mac crashed. I lost all the edited photos, but luckily I still have the originals, - and I now have a new mac, - so I can finally get around to re-editing them, and actually posting them! This is the first look of several.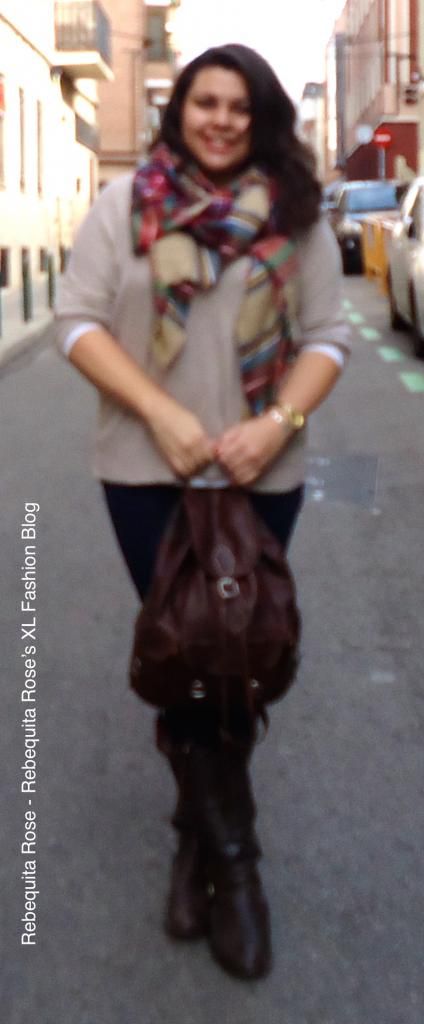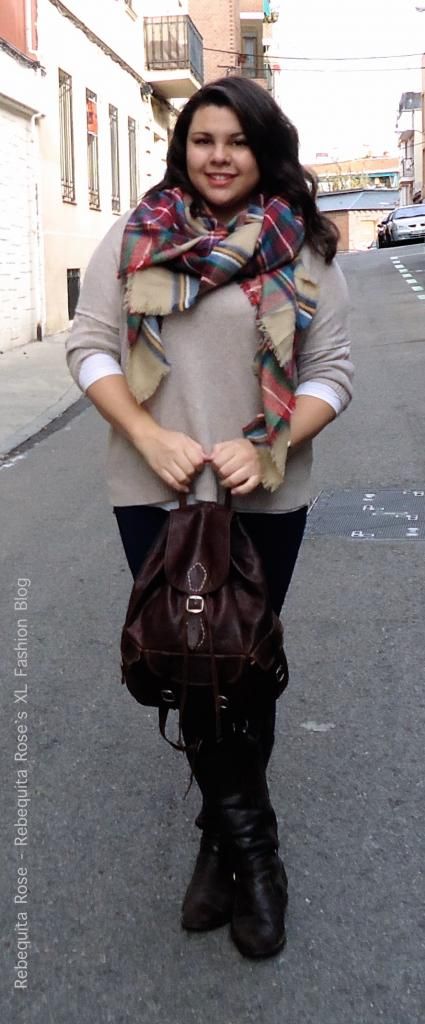 Finally, if I don't get to post again before the New Year, then HAPPY NEW YEAR!
Being poorly means I haven't really gotten into much of a christmas spirit. This is as far as my Christmas decorating went this year...
...that little 'tree' next to the owl is my 2014 Madrid Christmas tree. It has a little switch underneath it for you to turn it on and make if light up all different colours. It's tacky, but it has it's charm!
]
Until next time,
xox