Ain't nobody got time for that!
Hello Beauties,
Yesterday I decided I would you show something a little different to my recent looks. Something very simple and timeless. - Almost predictable. Something I would wear to work, or to run errands. The sort of thing I would quickly throw on when I'm in a rush, and/or don't have the energy, or desire to go through the gazillion clothes I have hoarded into my wardrobe, in order to find something cute to put together. Other days, I don't feel like making the effort, yet I never want to walk around looking like a mess either. I'm sure most of you can relate. You know! Those days when you wish you could just head out in your pyjamas and not care about how you look, at all...? On those days I will reach out for leggings with no print, and a long blouse to wear over it, whilst compensating for my lack of effort with statement accessories in order to look put together. It's the oldest trick in the book, but it never fails to work.
Hola Bellezas,
Ayer decidí que os mostraria algo distinto a mis looks mas recientes. Algo sencillo y sin fecha de caducidad. - Casi, predicible. Algo que me pondria para ir a trabajar, o para hacer diligencias. El tipo de cosa que me tiro encima cuando tengo prisas, y/o no tengo ni la energia ni las ganas de ponerme a buscar entre los millones de prendas que tengo acumuladas en mi armario, para encontrar algo mono que combinar. Hay dias en los que no me apetece hacer ningun esfuerzo con mi look, pero que a la vez no quiero ir por ahi pareciendo un desastre. Seguro que muchas os identificais con mi experiencia! Ya sabeis! Aquellos dias cuando desearias poder salir en tus pijamas y no preocuparte por tu aspecto fisico en absoluto...? En dias como eso, me pongo un legging liso, y una blusa larga encima, mientras lo combino con accessorios poco discretos para verme arreglada. Es el truco mas viejo de la historia, y jamas falla!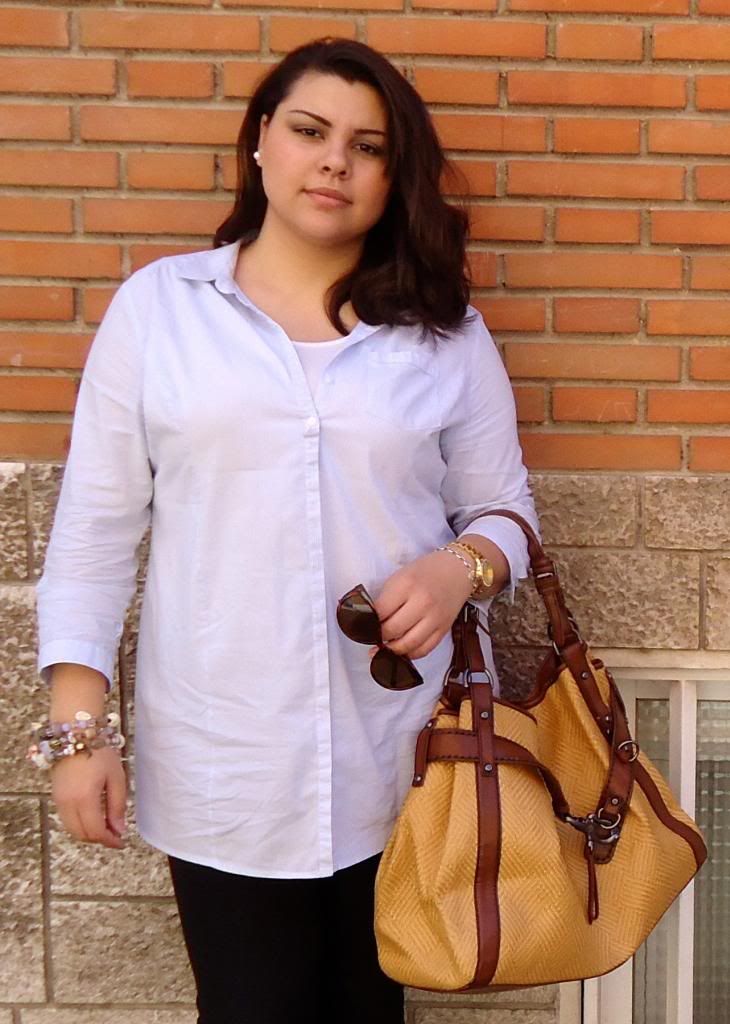 Blouse / Blusa - H&M
Leggings - C&A
Boots / Botas - Evans
Watch - Reloj - Bijou Bridgette
Bracelet - Pulsera - Parfois
Bag / Bolso - Francesco Biasia
(Bought in Rome, Comprado en Roma)
Sunglasses - Gafas de Sol - Can't remember / No me acuerdo
MakeUp - Maquillaje - L'Oreal, Urban Decay Basics Palette, Chanel, Too Faced, Bobbi Brown, and Rimmel London.