ON BEING FAT.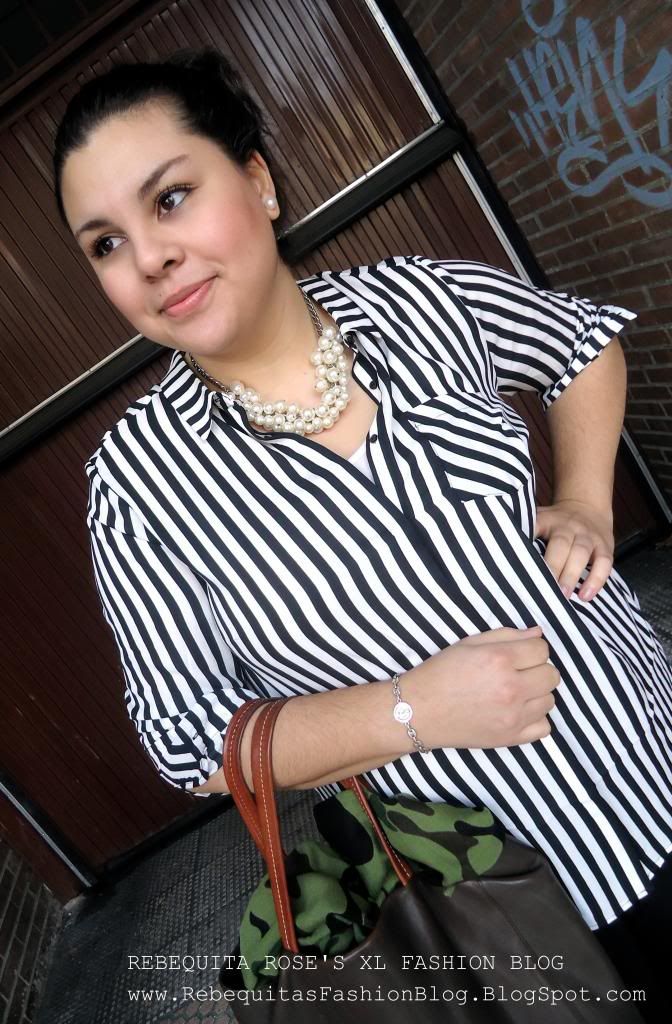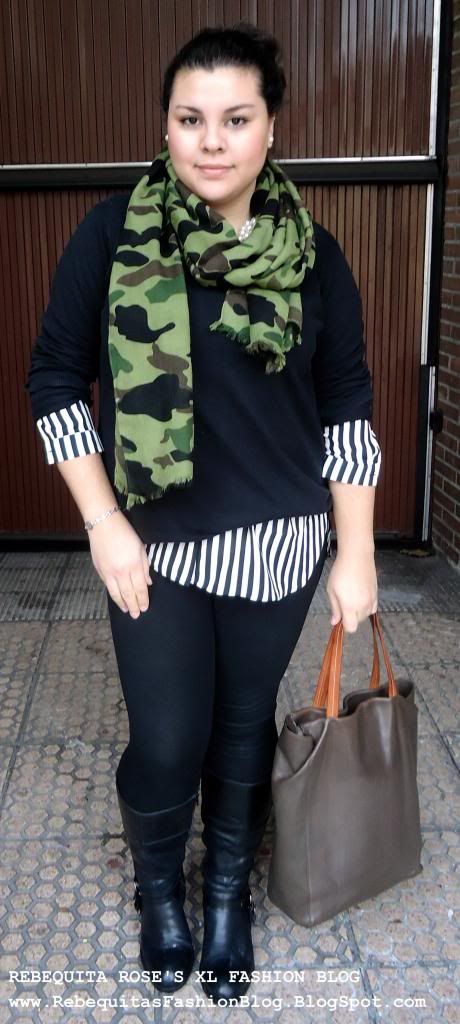 Fact.
I am 31 years old, I wear a size 20-22, I am about 5'7" tall, and I weigh 110kg, w
hich is about 17st or 240lbs. Yet, n
obody
ever
believes my age, my dress size, or how much I weigh. They always,
always
, underestimate all those numbers by
a lot
!
I think it's because I feel so young, I always smile, and I never moan about my size or weight, and I wear whatever
I want unapologetically. Also, I just don't think about any of it, or care about it all much, and so neither does anyone else.
I can honestly say that right now, I am completely happy. I want for very, very little, I have achieved almost everything I wanted to so far, and according to a lot of my friends, I am the strongest and bravest person they know. - Although I must admit, that most of the time, I feel neither brave nor strong.
I just don't let my fears get the better of me.
But it hasn't always been that way...
Today I feel completely comfortable telling people exactly how much I weigh, or what dress size I wear. I don't see it as anything to be ashamed (or proud) of. It simply is, and it doesn't make me a better or worse person. For years though, - long before this blog was conceived, - I basically hated myself for being fat, even though I wasn't fat to begin with. (Will post photos in a future post). I did ballet growing up, but then gained lots of weight in my late-teens after I gave it up. (Not that I was ever any good at it). To cut a long story short, I gained lots of weight, then lost it all (with the help of some diet-pills prescribed by an endocrinologist), and then put it back on (when the pills ran out), plus some more.
Eventually though, I grew to be comfortable in my own skin. I fought my body-image demons succcessfully, but it didn't happen overnight. For a long time before then I felt ugly and worthless because I was (or thought I was), fat. Sadly, there were plenty of people around me, who were close to me, (and who shall remain anonymous, since this isn't a 'name and shame blog post'), who did nothing but confirm all my insecurities in the meanest and most humiliating ways possible. At the time it hurt, but I understand now, that it was their way of being cruel to be kind, out of love and wanting the best for me. They didn't realize that they were just being cruel to me. Breaking me.
The second time my weight gain happened, something clicked inside of me. I thought to myself, that since I was the same person on the inside, the outside didn't matter. I thought that if anyone wanted to judge me negatively, or reject me, because they didn't like the way I look, it was their loss. And honestly, it was. It still is.
*I was fat again. Fatter than I had ever been. But this time, I no longer felt ugly or worthless, and I continued to wear whatever I wanted and whatever I liked, just as I started to do when I had lost heaps of weight for the first time ever. I knew without any shadow of a doubt that it wasn't me. It was the rest of the world on the outside looking in who were the problem and the ugliness.
Coming to that simple realization, was a moment of infinite liberation and empowerment.
A few years later, it became one of the reasons I started this blog.
I wanted to share that feeling of liberation and empowerment with others who may be going through what I went through. I wanted to contribute to the change.
There is so much to say on that subject, but I won't go into it right now, because if I do, this post will be endless. My point is, I haven't always been the confident person I am today. Well, I wouldn't say I am the most confident, as I am actually very shy, but I don't have many hang-ups about my body. There are bits I like more, or less, than others. - But that's not because I am fat. It's because I am human. Even the most beautiful people in the world, including the ones who live up to the western idea of beauty, don't like absolutely everything about their bodies!
It's now 2014. (As you know). Personally, I don't do New Years Resolutions anymore, or get overly excited and superstitious about it being a new year. It just so happens, that things have worked out, by coincidence, in such a way that I am taking steps to make a few changes at the start of the new year, which I hope will be long lasting.
In 2013, a routine health check up at work showed that I have ever so slightly raised levels of cholesterol. It was very little, but I'd rather fight and control a small rise in cholesterol, than a huge one. Just for the record though, high cholesterol is not a problem that is exclusive to fat folk. I know plenty of skinny people who have dangerously high levels of cholesterol, and plenty of fat people who have perfectly healthy cholesterol.
As well as that, I have a sciatica at the base of my spine, which causes sharp shooting pain from my lower spine down to my leg, and even more worrying, lately, I'm starting to notice numbness on and off. I've had it for a couple of years or so, but lately it's become more acute. Several doctors have told me tha
t it has nothing to do with my being fat. It's not caused by being fat, or
aggravated by being fat.
The doctors discovered my slipped discs and sciatica following an MRI scan after I had
plantar fasciitis a few years ago. Now that can be caused by being overweight, and it's
extremely
painful. I spent several weeks, if not months, being bed-ridden, and on crutches, as you cannot step on the bad foot for a long time, until it gets better. I don't want it to come back.
Then, on a slightly more superficial level, I re-discovered clothes I had been missing which were being kept in storage. Almost none of it fitted anymore, including some old
favorites which I had been missing! The idea of having to replace my entire closet is daunting! So all in all, being completely honest and objective, it is both healthier, and more practical, to try and loose weight (or volume rather), once again. Don't you think?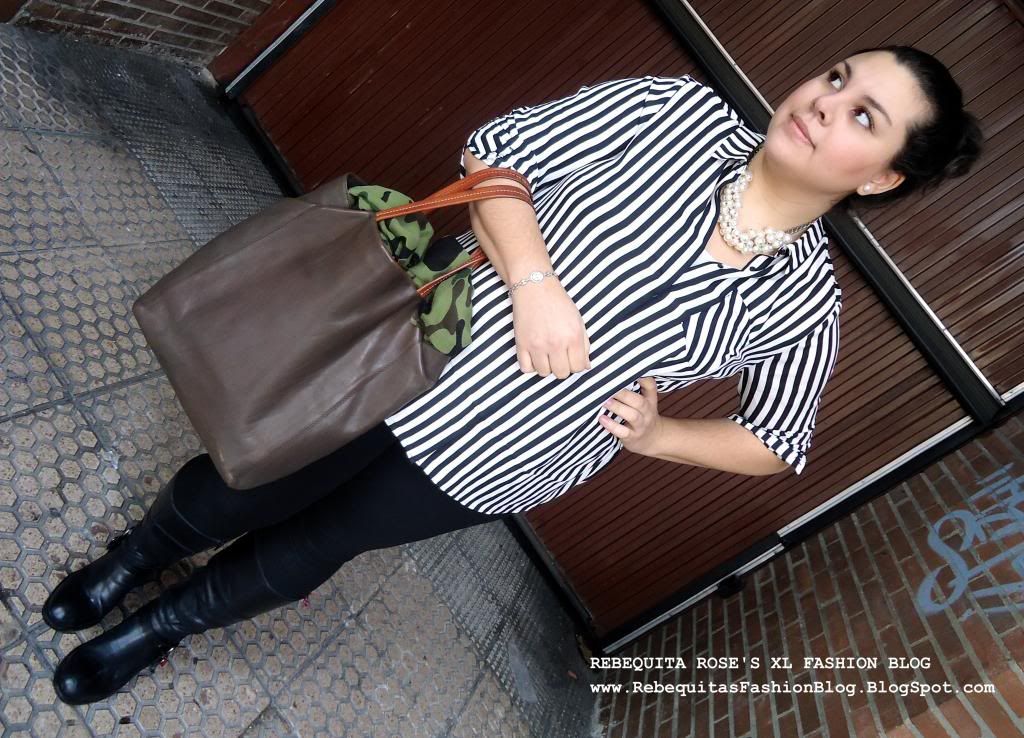 OUTFIT:
Stripped blouse (new), black leggings, black v-neck jumper (old),
camouflage scarf (new), and coat - H&M
Black boots - Evans
Leather bag - Massimo Dutti
Make-up: BareMinerals, L'Oreal, SmashBox Photo Finish, and YSL.
I will never be skinny, and I don't want to be skinny. I just want to be healthy again, and if I don't take control now, I could possibly end up with more weight-related health issues. I don't want to die of a heart attack, or end up crippled with a bad back that might strain further under all the excess weight. So I am to do my best to shed the extra pounds! I won't go into how right now, but I'm pretty sure that what I am going to do, WILL WORK.
This is not an attack against fat people. I am not a poster child for anything. I know that it is perfectly possible to be fat and healthy, and slim and unhealthy. Unfortunately for me, health issues have arisen which could be aggravated further if I do not control my weight. So I will be embarking on that journey, and I plan to share that with you.
There are so many things I want to say to you, which I haven't even touched on in this post; but it's already getting very long as it is. I'd rather save it all for the videos I plan to make in 2014!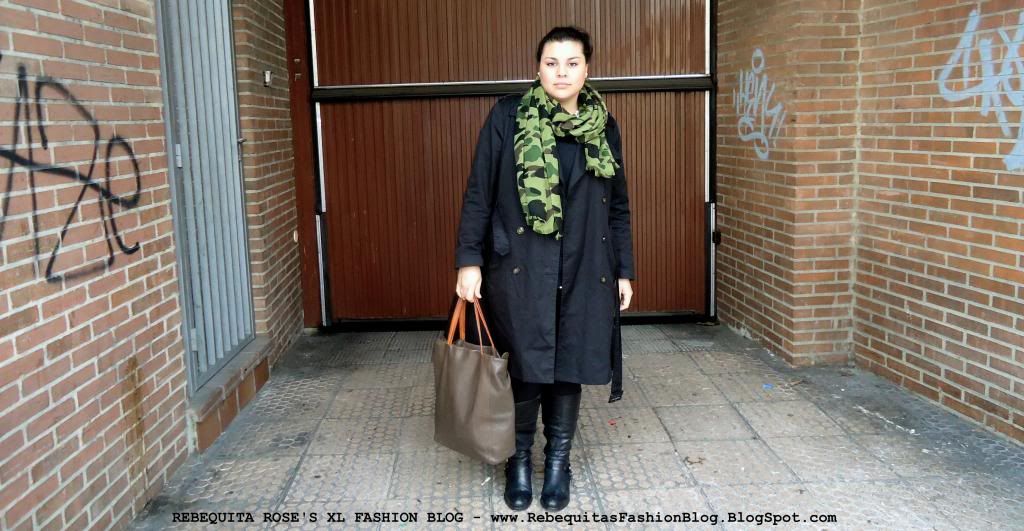 This year I plan to make quite a few videos. I have a list of topics I want to share with you, and which I think you might be able to relate to. I'm not great with video-making, but I will make the effort to practice and hopefully get better at it.
So without any further delay,
I hope you've all had a fantabulous Christmas, and that Santa brought you all lots of wonderful gifts! Fingers crossed 2014 will be a brilliant year where we shall all make our dreams our reality!
Lots of luv and blessings, until next time,
*ammended Wed-8-January-2014