Leather Skirt and Tucked-in Jumper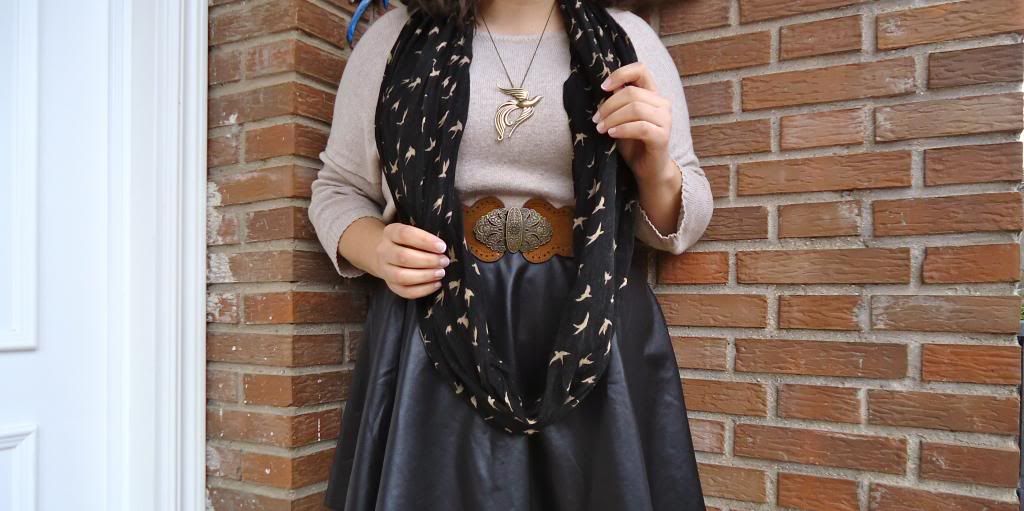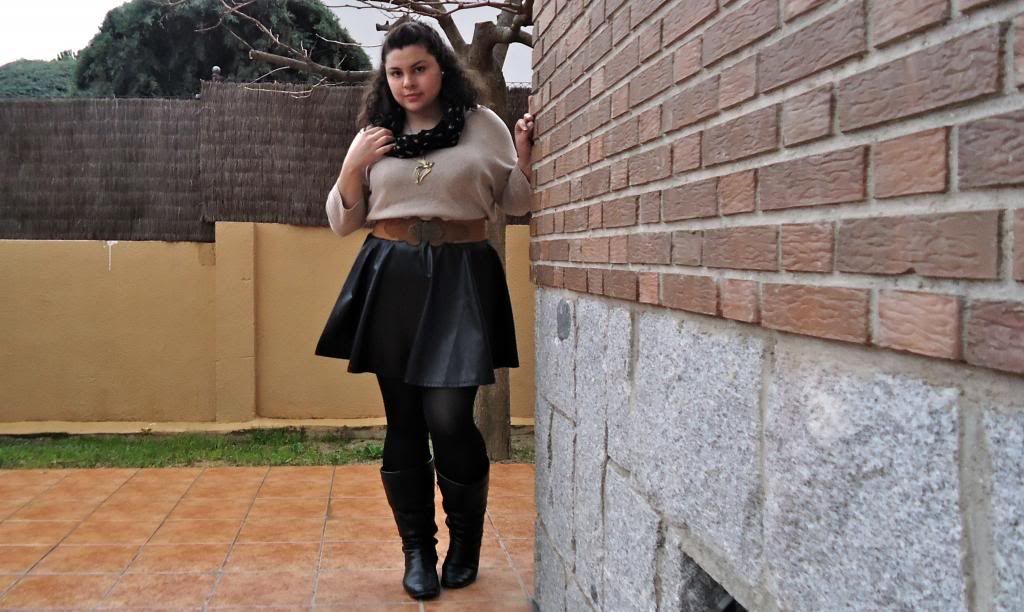 I love tucked in chunky jumpers, but it's a trend which I thought - in theory - only works on, and suits, really skinny girls. Especially ones with very small busts. I don't recall seeing any other plus sized bloggers tucking jumpers in, which wasn't helping my theory. Then I suddenly decided to experiment with the tucked-in jumper trend myself, at the very last minute before heading out of my house, the sunday before last. Wierdly, I chose my clothes, based on the accessories, not the other way around.
In my opinion, it's really the accessories which make or break a look, and this outfit is no exception!
Me encanta la moda/tendencia de meterse el jersey dentro de la falda/pantalon. Pero es una moda que yo pensana - en teoria - que solo funcionada y lucia bien, en chicas muy muy delgadas. Sobre todo chicas con muy poco pecho. No recuerdo haber visto ninguna bloguera plus metiendose los jerseys dentro, el cual no me ayudaba con mi teoria. Luego de repente, yo decidi experimentar con esa tendencia, al ultimo minuto, justo antes de salir de casa, hacen dos domingos. Curiosamente, elegi la ropa segun los complementos, no al contrario.
En mi opinion, son los complementos que hacen or destruyen un look, y este conjunto no es ninguna excepcion!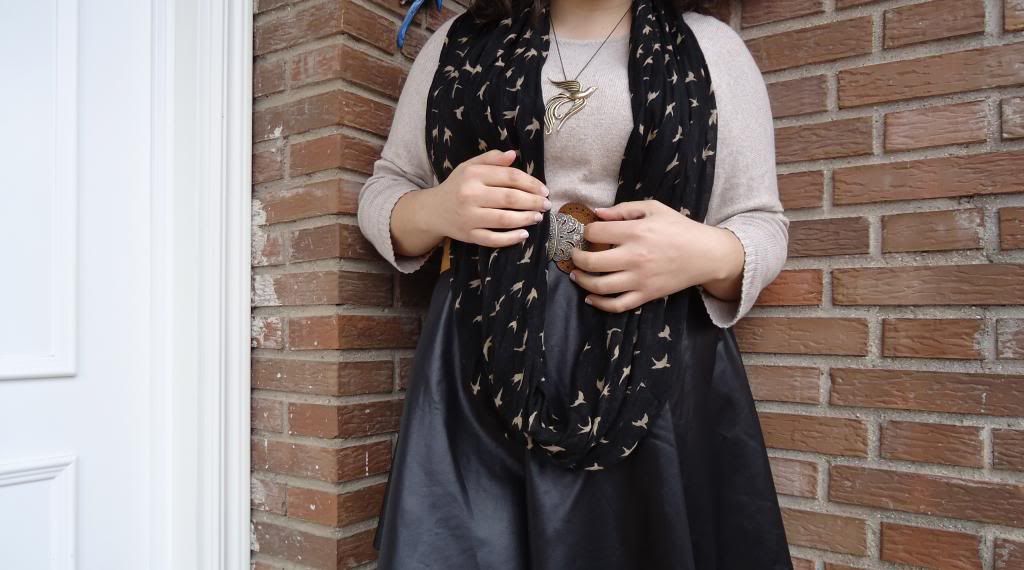 Black and Cream Bird Print Scarf - Primark (old)
Brown Elastic Belt - Blanco (old)
Cream Jumper Jumper - H&M
(38% cotton and 5% angora)
Faux leather skirt - New Look Inspire (London)
Bird Necklace - Accessories (old)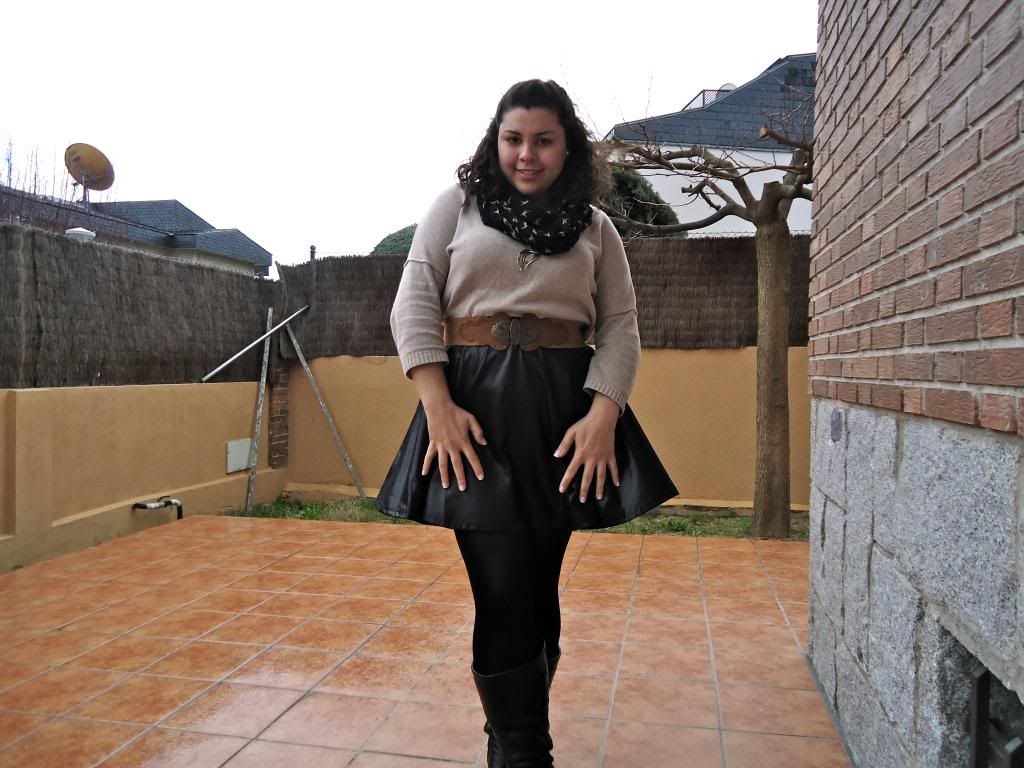 This fau

x

leather skirt which I bought in London during the January sales, is one of my favourite skirts! I have got a lot of wear out of it, and I always feel extra cute and girly in it! Part of me wishes it was a bit longer, but then I love the shape of it so much, and the way it moves, that the length doesn't bother me much! This shape worn as a high waist is definately flattering on an 'apple' like myself. This skirt is labelled as being a size 26. Yes. A SIZE TWENTY SIX. I think someone might have out the wrong label on the skirt! And it only cost me £9, when the original retail price was just under £20. I came close to ordering it on-line when it first came out. Thank God I waited, that's all I can say now!

Tee hee!
Esta falda de piel-de-mentira, que comprE en Londres durante las rebajas de enero, es una de mis falda preferidas. Le he sacado mucho partido

!

Siempre me siento muy mona y femenina con ella puesta! Hay una parte en mi que desearia que la falda fuese un pelin mas larguita, pero me encanta tanto la forma y como se mueve, que el largo no me fastidia mucho! Esta forma, puesta a la cintura alta, favorece mucho un 'cuerpo-manzana' como el mio. La falda dice ser una talla 26. UN TALLA VEINISEIS. Me parece que alguien se puede haber equivocado de etiqueta! Solo me ha costado £9, cuando el precio original era poco menos de £20. Estuve a punto de comprarmela por internet cuando estaba recien salida. Gracias a Dios que me he aguantado, eso es lo unico que puedo decir ahora! Je je

!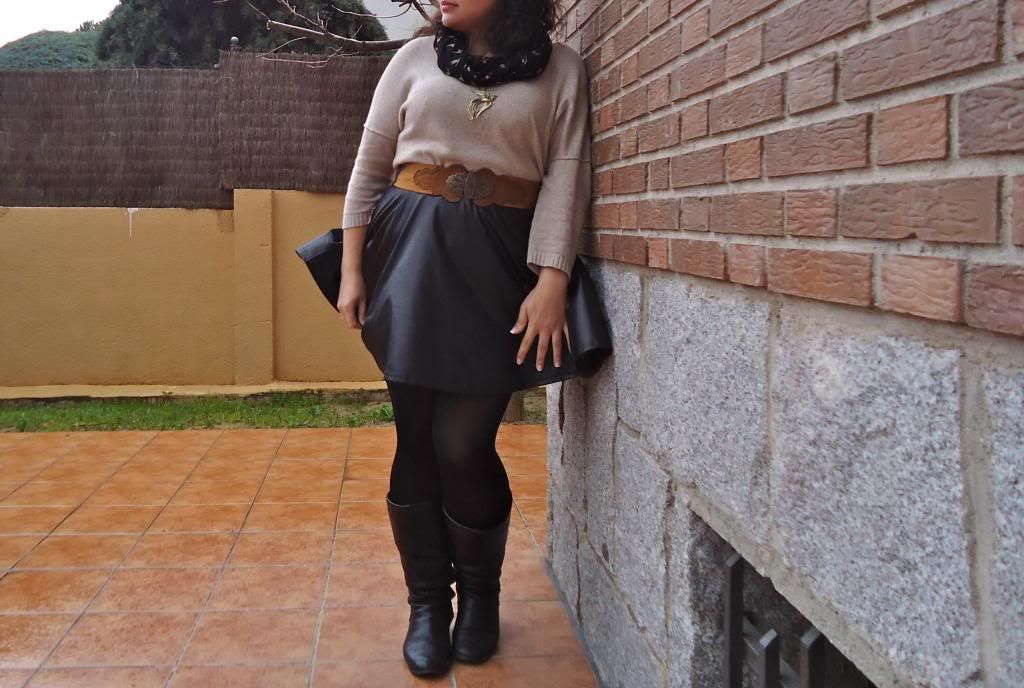 And since it was so cold, I wore my favourit

e ASOS Curve Peplum Coat over it to keep warm!
Y desde que hacia tantisimo frio, me puse mi abrigo preferido peplum de ASOS Curve encima para luc

har en contra del frio!
And here are a few of my favourite 'quotes' that I foun

d on-line recently...
Aqui os dejo algunas de mis 'citaciones' favoritas que he e

ncontrado en linea ultimamente...
A veces la persona que mas lucha por mantener a todo el mundo content@,
es quien mas sol@ se encuentre/siente...
Empezo a medirse en felicidad y risas, en vez de centimetros y kilos.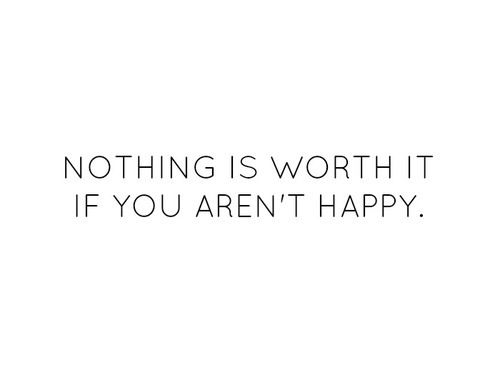 Nada merece la pena sino eres feliz.
El unico obstaculo en tu vida, es una mala actitud!
Yo te amo, y de ahora en adelante, voy a ac
tuar de tal manera que lo demuestre!