Remix Post: Asos Aztec Skirt
I've been a terrible blogger lately. I haven't posted any looks in months! For the most part, I had barely any internet access, and since I have had internet access, I've mostly been focusing on putting my plans for the future into action. I have missed blogging though, and I've been very touched by those of you have been in contact with me to check everything is OK. Hopefully I can go back to blogging more regularly!!
I'm back at work now, which I'm very, very happy about. This is my first time ever staying on at any school longer than just the one academic year, believe it or not. This year I've gone from teaching teenagers and adults, to teaching infants. It's a drastic change, but I'm absolutely loving every second of it! It's very rewarding, and there is always a reason to laugh everyday, what with the cute and crazy things that the kids say and do! I'm also extremely maternal, and extremely patient, so the role suits me in general. The only downside is, that I'm only working part-time now, (partly so I could go back to uni and get a second degree during the rest of the time) and so will be earning a lot less money, - which means a drastic cut in clothes shopping! But if I look on the bright side, style-wise at least, this year is going to be the perfect opportunity for me to re-discover old rags that I have forgotten about, and which have probably been gathering dust at the back of my closet or something! Maybe it's time to let them see the light of day!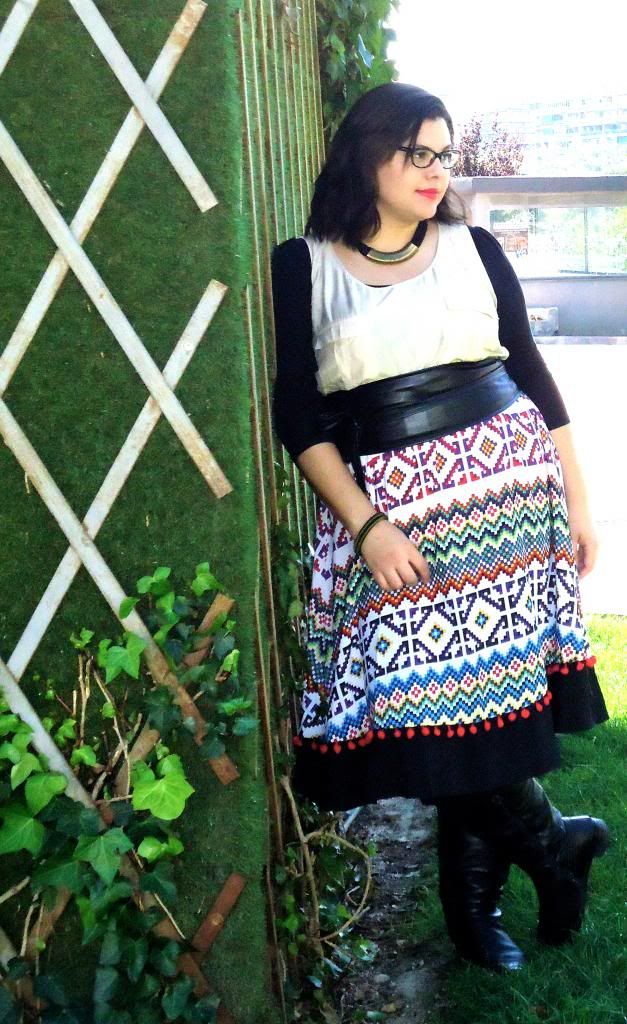 Skirt - Asos Curve
Long sleeved black top - H&M
'Khaki' Sleevesless top with pockets - Talla y Moda @ El Corte Ingles
Wrap around fauz-leather belt - Baul del Botero
Black leather boots - Baul del Botero
Black rimmed glasses - Dolce and Gabbana
Necklace - Stadivarius
Green Threaded Bangles - Evans
Denim Jacket - MS Mode
The bit about going back to uni has proven to be a bit of a drama though, but fingers crossed I will have it all sorted in no time. I'm very lucky to have a strong support network of friends and family who constantly remind me that everything always works out for the best, and who have explained the various options available to me to make my 'dreams' come true!
Finally, sorry for the boring write up, although I do hope you like the outfit!
Until next time my lovelies,
Much Luv!
xxx