Maxi Casual
So, this is what I wore to work yesterday. It's not quite 'elegant' in the sense that it is more on the casual side than formal, but it was still work friendly. There is something about teaching infants this year which has me wanting to dress more on the casual side, generally speaking. I suspect it might be because it's a completely different kettle of fish from teaching secondary and adults, as with the little ones you have to be very expressive with your body language, and you have to move about a lot, so feeling comfortable in your clothes is crucial!
Esto es lo que me puse para ir a trabajar ayer. No es realmente 'elegante' en el sentido de que es un look mas casual que formal, pero aun así me ha valido para ir a trabajar. No se que tiene el dar clases en infantil este curso que me hace vestir mas casual que antes, hablando en general. Sospecho que es porque es otro mundo de la ESO y de dar clases a adultos, ya que con los peques necesitas ser muy expresiva con tu lenguaje corporal, y te tienes que mover mucho, así que sentirse cómoda en la ropa que llevas puestas, es esencial!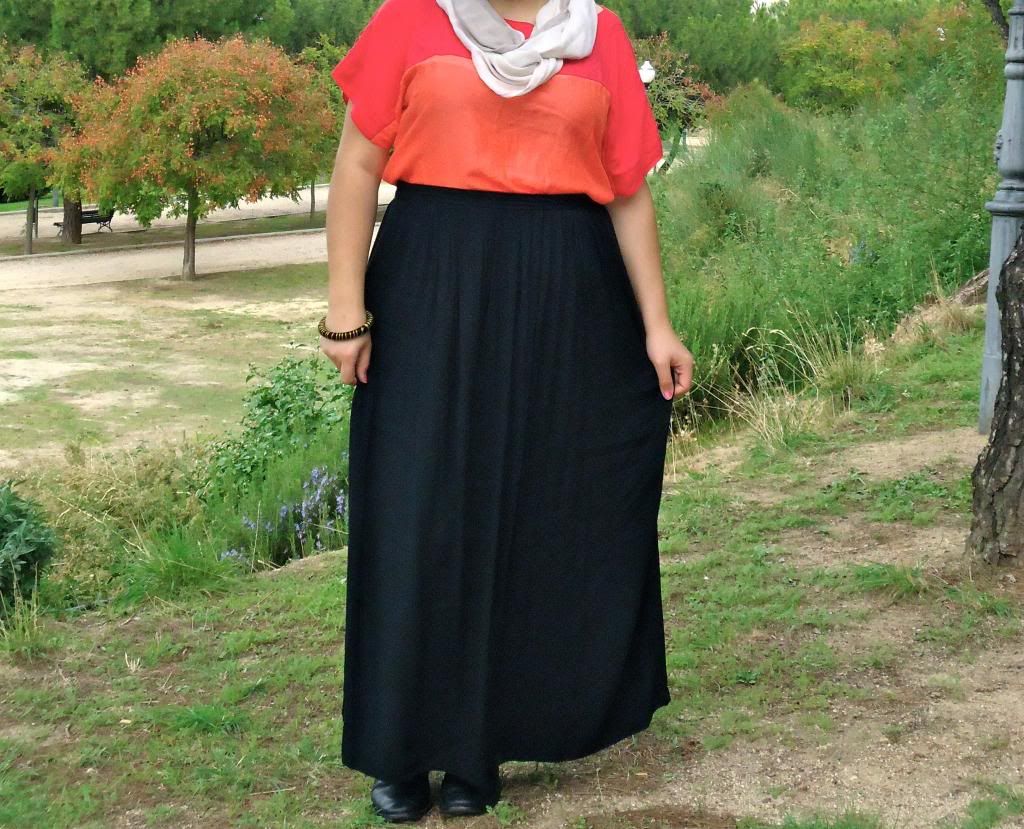 Maxi-Skirt (for winter) - Pleno
Two tone top - El Corte Ingles 'Talla y Moda'
Wrap around nude tone scarf - H&M (not in stock anymore, as far as I know)
Threaded black and gold bangle - Evans (old)
Flat Black boots - El Baul del Botero
Brown cardigan - Sfera (old)
Denim Jacket - The Gap (Very old)
Cream Knitted super-sized bag - Bershka (old)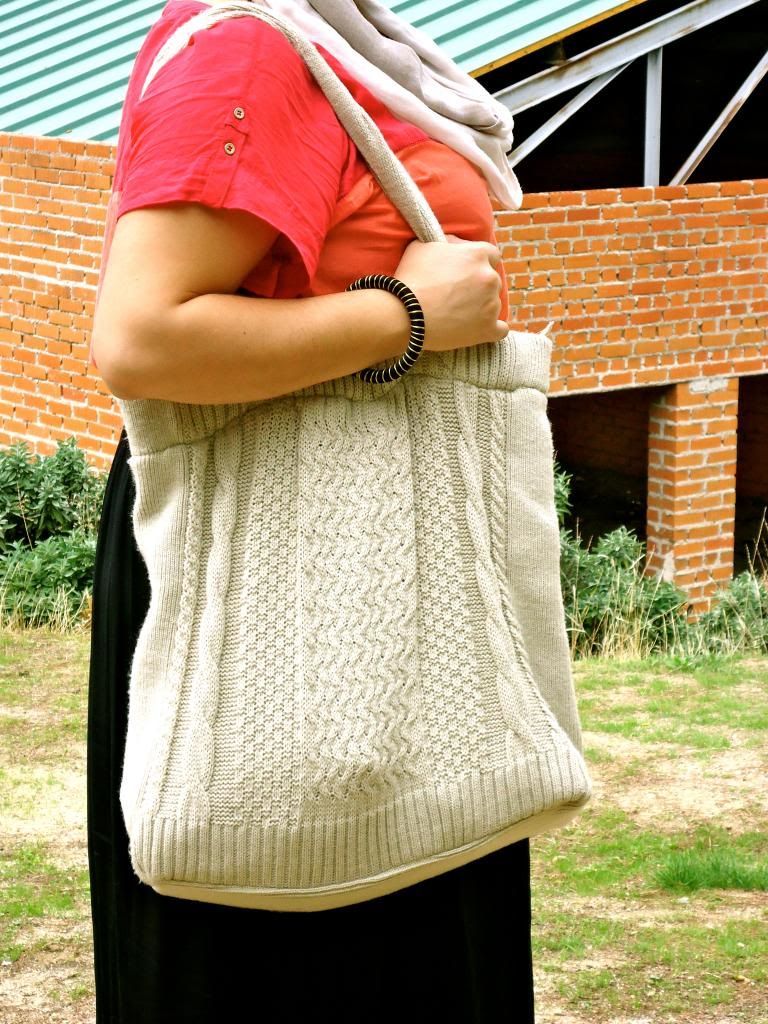 I went back to work the day before yesterday because after two days of being at home, in bed, I could no longer stand the boredom of doing nothing. As soon as I started to feel slightly better, I went straight back to work. - Hence why I look so drained and not-quite-awake. Apart from wanting to get away from the boredom though, I actually happen to just really love my job a lot. There is never a dull moment and everyday I have a reason to laugh or smile. My bosses are really great people though, and as soon as they heard my voice and my chesty cough they couldn't understand why I hadn't taken a few more days off. I was obviously still not well, even if I was feeling a bit better. They didn't send me home or anything, but they were concerned about my well-being far more than about whether or not they were going to count on me being at work or not. That to me is really refreshing, and it's something I think all bosses should do more often! - Anyway, going back to the outfit! As it's getting cooler these days, and I'm still somewhat poorly, keeping warm was essential. Only thing is, I still have a bit of a fever, so I feel hot and cold on and off, so layering was vital if I was to feel comfortable and adjust to my current messy body temperature! I wore a cardigan and took an old denim jacket with me as well. The only problem was, that the cardigan was longer than the denim jacket. But there was something about that which I actually liked...
Volvi al trabajo el día anteayer porque tras dos días de estar en cama, y no podía aguantar mas el aburrimiento. En seguido que empece a sentirme un poco mejor, volví al trabajo de inmediato. - Por eso me veo como apagada y no-del-todo-despierta. Bueno, pero independiente de querer escaparme del aburrimiento, simplemente adoro mi trabajo. Nunca hay momentos insulsos, y todos los días tengo motivos para sonreír y reirme. Mi jefes son una maravilla. En lo que escucharon mi voz, y mi tos, no podian comprender por que no me habia tomado unos días mas para ponerme mejor. No me dijeron que volviera a casa, ni nada así, pero se ve que les preocupaba mas mi bienestar, que el si van a contar con su empleada o no. Eso es algo refrescante, y que lo deberían de hacer todos los jefes con mas frecuencia! - Bueno, volviendo al look! Las temperaturas están bajando ya, y como estoy aun un poco malita, es importante luchar en contra del frio. Y como tengo algo de fiebre, y de repente tengo calor y luego frio, sentí que era esencial elegir mis 'abrigos' de tal manera que pudiera ajustar mi ropa al inestable temperatura de mi cuerpo! Asi que me puse una rebequita y me lleve una chaquetilla vaquera también. Lo único era, que la rebequita era mas larga que la chaquetilla vaquera. Pero había algo en ello que me ha gustado...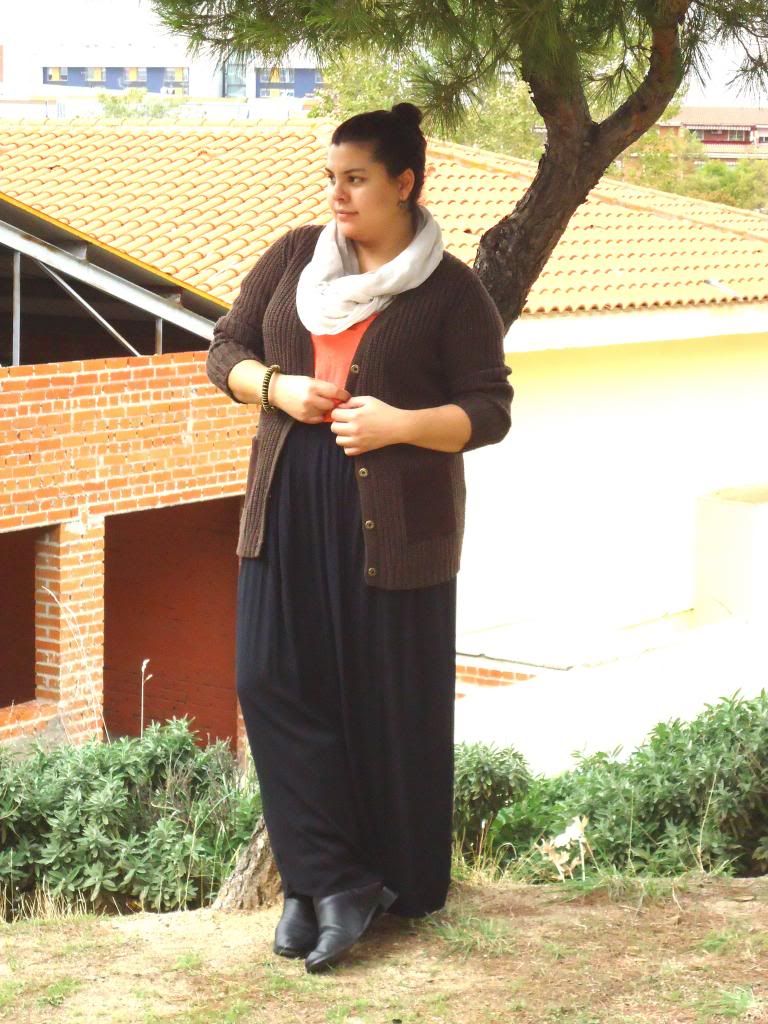 (Please ignore fly)
They say you should never wear black and brown together, but I like how they work together.
What do you think?
Dicen que el negro y el marron nunca se deben de llevar juntos, pero a mi me gusta com se ven juntos.
Vosotras que pensais?