Pale Pink, lace and Polka Dots
Hi Everyone! How is your week starting out?
I can't believe it's monday already! The weekend has just flown by, which I'm really happy about to be honest, because it means that moving-house-day is coming closer sooner, and, I will be back at work in no time as well. Yes, I am really excited about going back to work. (More on that at another point though). For now, I wanted to share what I wore yesterday with you. The top, clutch and shoes are all new items.
Como siempre, os pido disculpas por errores ortograficos en mi castellano:
Hola! Que tal nos recibe la nueva semana?
No puedo creer que ya es lunes! El fin de semana ha pasado volando, pero eso me alegra porque significa el dia de mi mudanza se acerca aun mas rapido, y que en poco estare de vuelta a mi trabajo. Si, me ilusiona volver a mi trabajo. (Luego os contare mas de eso). Por ahora, queria compartir mi look de ayer con vosotras. La camiseta, el bolsito y los zapatos, son todos nuevos.
TOP - H&M (Plus Sizes, new)
JEANS H&M (Plus Sizes, old)
CLUTCH / HANDBAG - Six
SHOES / SANDALS - "Samsara"
GLASSES - Dolce and Gabbana
As for the glasses... if you are my friend on facebook, you will already know that I got some new glasses while I was in London. A thick black rimmed pair by Dolce and Gabbana, and a rimmless pair by Christian Dior. I am actually quite short-sighted and so should wear my glasses full time, - but with the high temperatures out here, I keep having to take them off because I feel they add to the heat, and the lenses often get "smoky". It's actually really annoying, although I have to say, having clear vision is priceless (even I do sound like a bimbo for stating the obvious here). Wearing them full time when the temperatures go down, should be easier. I hope.
Although the black D&G pair are my favourites, and I fell in love with them as soon as I saw them, I can't help feeling that they don't look quite right with my natural curls and detract femininity from me. Maybe I'm just being paranoid?
Bueno, las gafas. Si eres mi amig@ en facebook ya sabras que cuando estuve en Londres me compre una gafas nuevas. Un par negro de Dolce & Gabbana, y un par de anteojos "sin montura" de Christian Dior. En realidad soy algo miope y deberia llevar gafas a tiempo completo, pero me los tengo que quitar a cada momento porque siento que aumentan el calor y que lo que es la lentilla se me ponen ahumados. Es un fastidio en realidad, aunque os tengo que admitir, que tener una vista clara no tiene precio (aunque suene a idiota por decirlo lo obvio de tal manera). Llevarlos siempre cuando bajen las temperaturas, deberia de ser mas facil. O eso espero.
Aunque las gafas negras de D&G son mis preferidas, y que me han encantado desde el momento en que las vi, no puedo evitar sentir que no se me ven todo bien cuando llevo el cabello sin alisar, y que encima me deducen femininidad. Igual me lo estoy imaginando?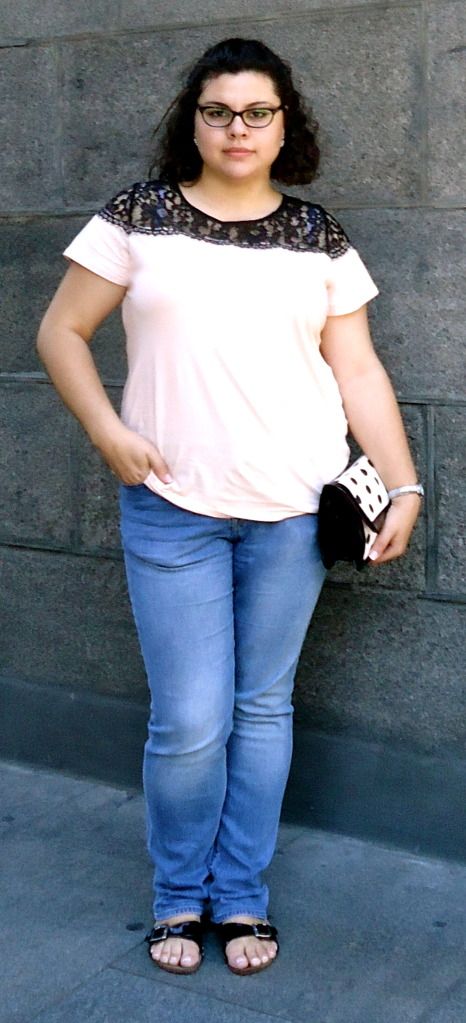 I do think that they definately look better when my hair is straightened though...
* * *
Aunque si pienso que me quedan mucho mujer cuando me aliso el cabello...
...but I still love them anyway! As I do this new top and bag!
* * *
...pero me encantan igual! Al igual que mi nueva camiseta y bolsito!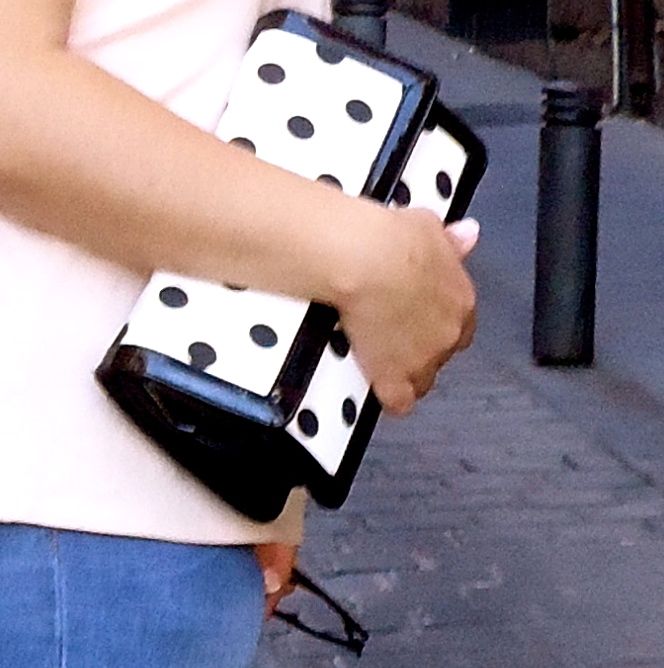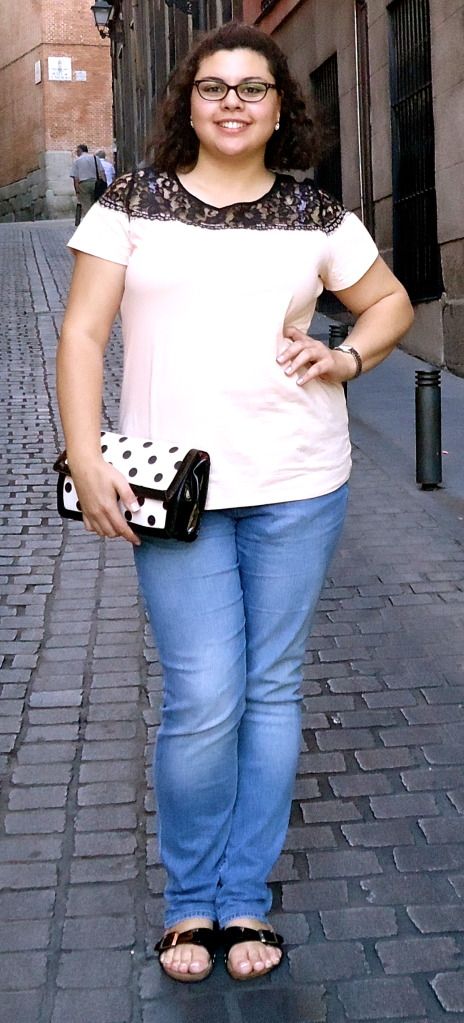 I love that the lace at the top of this top goes all the way around, and how the clutch/hanbag - which comes with straps which I tucked into the back - is the sort of accessory that just adds life to an outfit.
* * *
Me encanta que el encaje de la camiseta rodea toda la parte de arriba de la camiseta, y como el bolsito - que viene con tiras que he metido dentro del bolso - le da un toque de vida a un look.
Hasta la proxima... Besitos!