Dinner with my Cousin Dessireé...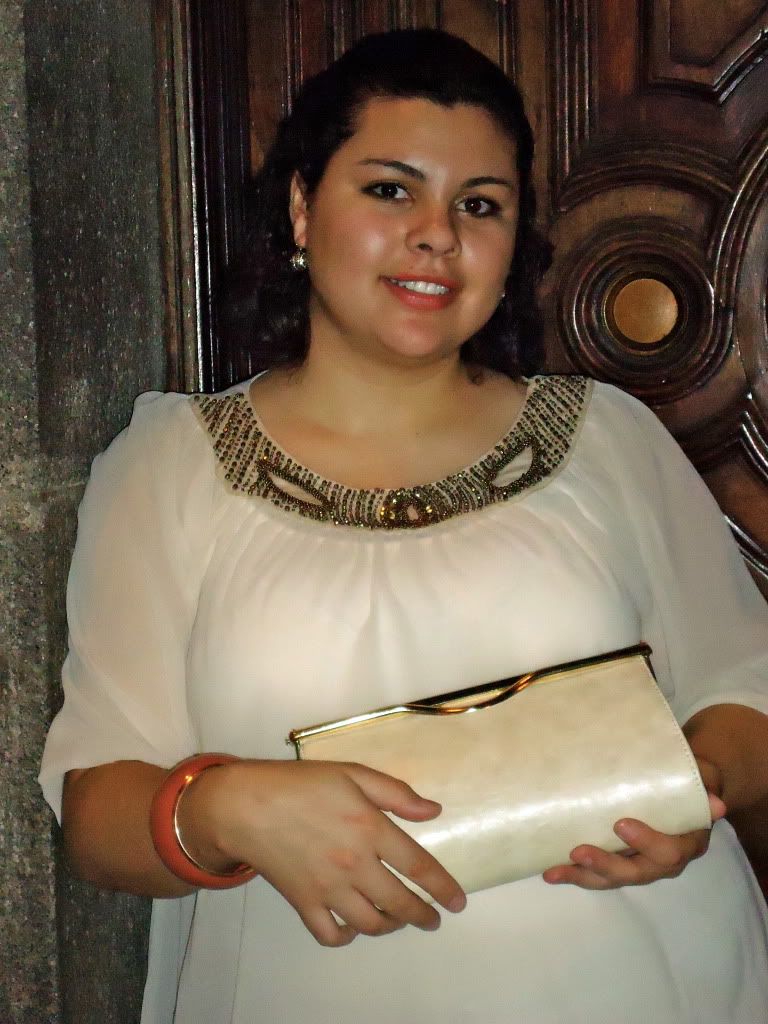 Hi everyone! It's been a really long time since I last posted anything on here, and I'd like to say thank you to everyone who commented and messaged me during that time to say that you were missing my posts and hoped I was OK. I've said this a billion times before, but it really means the world to me to know that that someone somewhere is reading my posts and enjoying them, and is inspired to challange the fashion rules that are imposed upon all of us.
Hola! Hace mucho que no publico nada aqui, y me gustaria darle las gracias a tod@s l@s que se han preocupado por dejarme comentarios y mensajes para dejarme saber que extranas mis posts y que os preocupaba mi 'silencio'. Lo he dicho un millon de veces, pero para mi significa muchisimo el saber que alguien en algun lugar lee mi blog, que disfruta de ello, y que se siente inspirado@ a luchar en contra de las normas de fashion que se impone sobre tod@s nosotr@s.
I just flew back to Madrid from London a few days ago, and since I got here I have been househunting and catching up with friends and family. Luckily I have found a place which I absolutely love, and for the minimum amount I was willing to pay for a place. Now I'm just excited to go sign the contract with the landlord this week and then move in. I haven't met the other housemates yet, which some of my friends and family think is a recipe for disaster, but I'm not sure I agree with them. I think that whatever is meant to be, will be. I have no expectations of them, but I am hoping they will at the very least be respectful easy-going people.
***
Hace pocos dias he vuelto a Madrid de Londres, y desde que he llegado he estado buscando casa y poniendome al dia con mis amistades y mi familia. Afortunadamente he encontrado un lugar donde vivir que me chifla, y en donde voy a pagar el minimo que estaba dispuesta a pagar. Ahora estoy ilusionada para ir a firmar el contrato de alquiler con el casero, y luego entrar cuanto antes. Aun no he conocido a mis companeras de piso, cosa que algunas de mis amistades y familiares piensan que es una receta de desastre, pero no estoy de acuerdo. Creo mucho en que lo que tiene que ser, va a ser. No tengo ninguna expectativas de ellas, pero si que tengo esperanza de que por lo menos sean personas respetuosas y comprensivas/tranquilas.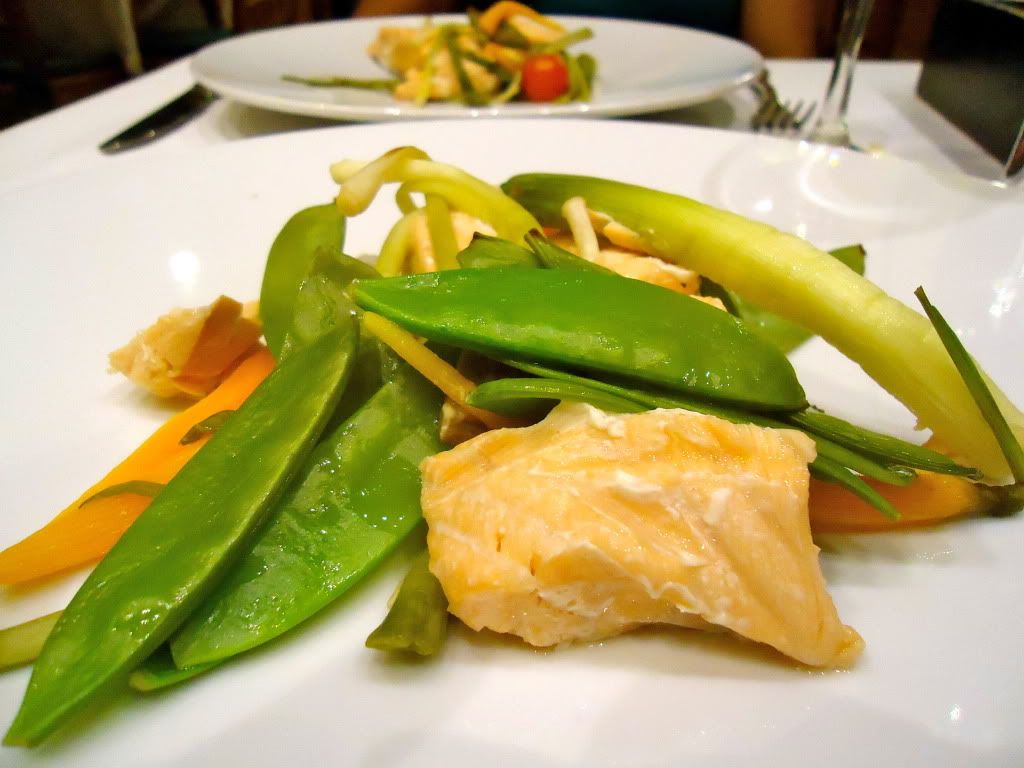 Last night I met up with my cousin Dessire
é for dinner and a catch-up. We ate the salmon and vegetables you see in the photo above, accompanied by some white wine. As usual, our meet-up was full of giggles and laughter, and I finally got the chance to give her her birthday present - which I had meant to give to her before flying out home to London at the start of the summer! My gift to her was a beautiful sparkly black necklace, which coincidentally matched all the other accessories she was wearing lastnight!
***
Anoche quede para ir a cenar con mi prima Dessireé para ponernos al dia. Comimos el salmon que veis en la foto de arriba, con un vinito blanco. Como siempre, nuestro encuentro estuvo lleno de risas, y por fin tuve la oportunidad de darle su regalo de cumple - Cosa que habia pretendido hacer antes de irme a mi casa en Londres al principio del verano! Mi regalo para ella fue en collar negro que brilla, y que por pura coincidencia combinaba perfectamente con el resto de sus complementos!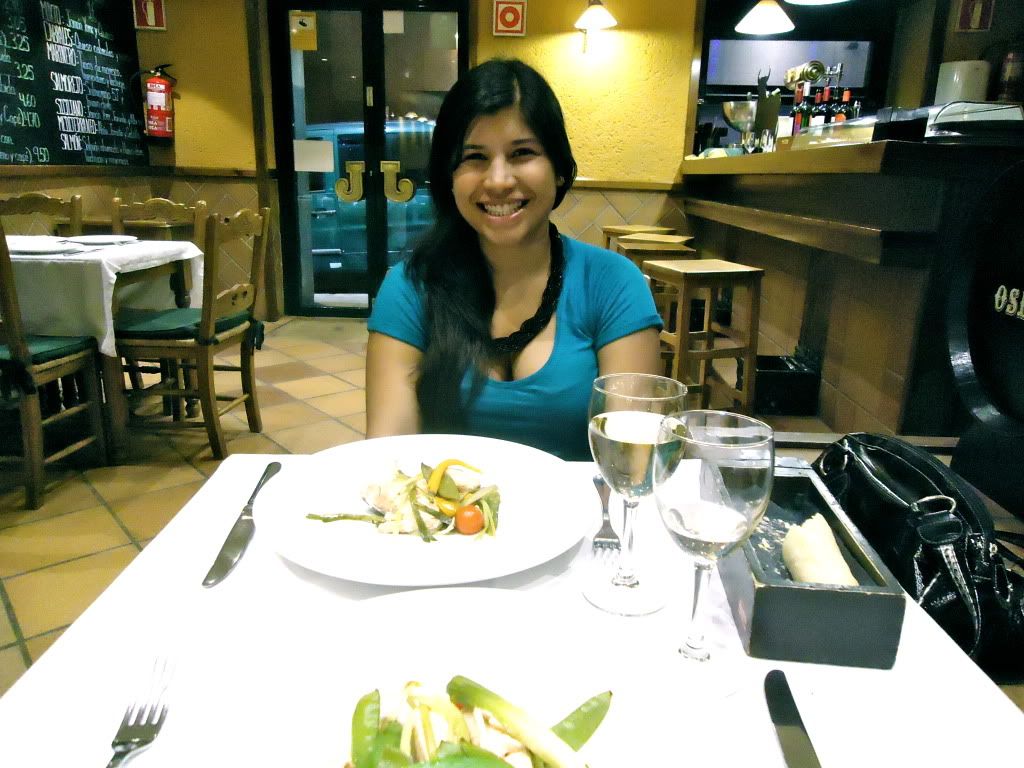 It's a shame that you can't really see the sparkle in the photos, but it's a gorgeous, timeless and very versatile accessory! It gave her outfit a pop which we both loved.
***
Es una pena que en la foto no se aprecia el brillo, pero es un collar precioso, que no pasara de moda, y que es muy versitatil! Le dio un toque de vida a su look que a los dos nos ha encantado!

The tunic I wore lastnight is something I've had since just before the start of summer, and which I have worn quite a lot since then. However, this is the very first time it's appearing on my blog, simply because for some reason or other it hadn't been photographed before. I think it's meant to be worn as a dress, but it's not long enough on my body for me to wear it as a dress. The design on the "collar" - which I really love - is very sparkly, but sadly it doesn't show up much in the photos...
***
La tunica que me puse anoche es algo que lleva tiempito en mi closet; desde justo antes del verano, y me lo he puesto muchsisimo. Pero es la primera vez que sale en mi blog, simplemente porque por alguna razon u otra, no ha sido fotografeada antes. Creo que esta hecha para llevarse como vestido, pero en mi cuerpo queda muy corto para eso. El diseno en el "colar" - que me encanta - tambien tiene mucho brilo, pero lamentablemente, no se aprecia en la foto...
Tunic and denim boyfriend shorts - H&M
Cream Vest top - Dandara
Cream and "gold" clutch - Accessorize (old)
Chunky bangle - Evans (old)
Red leather pumps - Mary Paz Leather Collection
Sparkly earrings - Bijou Bridgette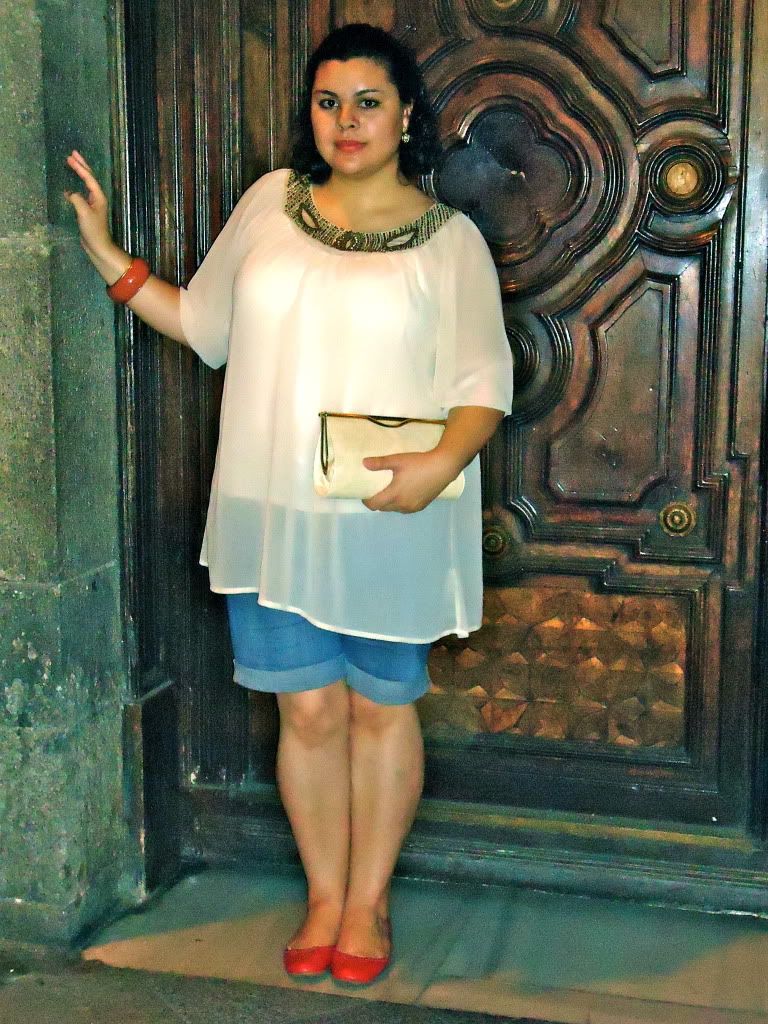 Finally, - and most importantly - big big thank you to EVERYONE who showed me so much love in my absence. I'm sorry I didn't give an signs of life for a few weeks there. I have missed blogging though, and I am happy to be bck here so I can start blogging to my hearts contentment once more!
I have a London post planned, another "Up Close and Personal with a P.H.A.T girl" interview/post featuring some truly fabulous bloggers, and a "confessions" post that I plan to do, so please stay tuned for all of that and pop by again soon!
Finalmente, y aun mas importante, mil gracias a TOD@S los que me han demostrado tanto carino durante mi ausencia. Lo siento mucho no haber dado senales de vida durante unas semanitas! He extranado el 'bloguear', y me alegro de haber vuelto y poder publicar cuanto me de la gana de nuevo!
Tengo pendiente hacer un post sobre Londres, otro segmento de "Up Close and Personal with a P.H.A.T Girl" donde entrevistare a blogeras fabulosas, y un post algo personal de "confesiones", asi que por favor, no se lo pierdan y vuelvan por aqui pronto!