5 Minute Everyday Natural-Looking Make-up
I know I have said this before, but I LOVE playing around with hair and make-up just as much as I do with clothes, but for some reason or other, that side of me hasn't made it on to the blog.
- Until today. - And I'd like to show that side more!
Before I continue, I would like to appologize for my creepy facial expression in the headshots. Taking pictures of myself to show you guys my make-up from today, was very awkward! Hopefully as I do more of these, I won't have a need to appologize much more.
My usual "everyday" make-up routine, (when I do wear make-up - which is not usually everyday), is just a bit of mascara, blush, and Blistex as lipgloss, (eventhough I've never had a coldsore). Usually I can keep my acne controlled, and at bay, which means I don't normally feel a huge need to wear much make-up. But since today was a little different, I thought I'd share.
Here are some of the make-up items I wore today:
These mac cosmetics are all new. - A face and body foundation, a concealer, and a mineral powder. I only got them yesterday after being tempted to indulge in some mac cosmetics for a really long time. The reason I gave in yesterday though, was because I have been really struggling to control my acne lately, and it has led to some rather obvious blemishes that I really wanted to hide. I hadn't worn foundation in years, But when I did, it was either Clinique or Darphin products because they are gentle on sensitive skin, and wouldn't aggrevate my acne-prone skin. Although I must say, I am absolutely delighted with the results I have gotten from my new mac foundation - which is water based and should last a really, really, long time! I didn't purchase any brushes because they were just far too expensive. The brush the girl at the Mac counter used on my face cost almost fifty euros. I'm sorry, but I can't afford to spend that much on a make-up brush right now. So instead, I used my bare minerals brush to apply the mineral powder this morning. It did the job just fine, I have no regrets, and I don't think it looks worse (or better) than it did with the mac brush.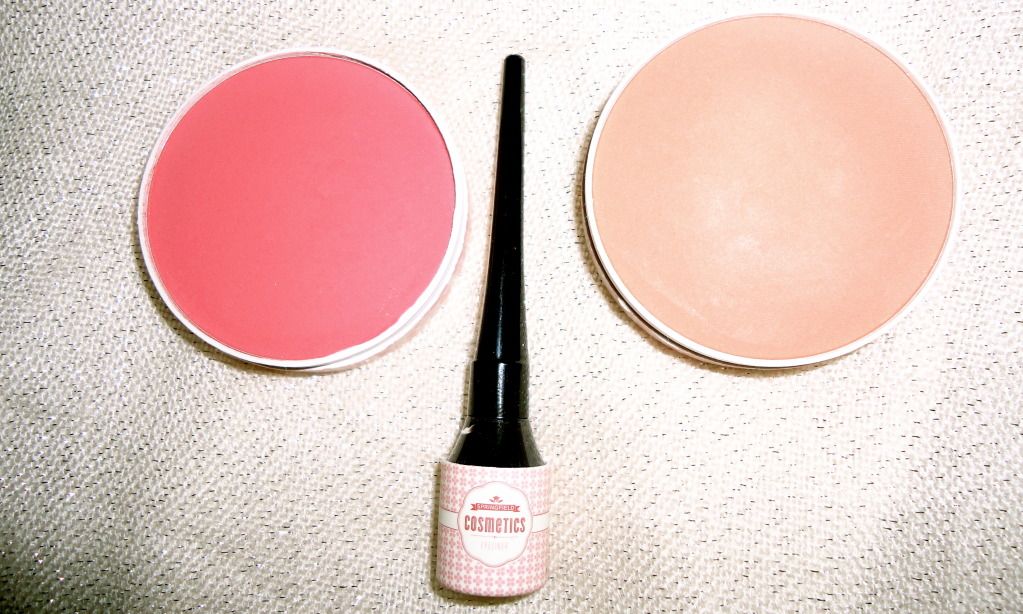 Now, to be completely honest, Springfield cosmetics are not something I know much about. I didn't even know Springfield did make-up until a few days ago. I just walked into a Springfield shop out of boredom, and saw that they had an offer on, where you could purchase three make-up items for just under ten euros. I took a quick peak, and then walked out of the shop without purchasing anything. Then on my way back home later on, I walked past the shop again, and decided to walk in, and then took another look at the cosmetics available. It was then that I decided to purchase these three items. Two blushers and one black liquid eye-liner. I haven't tried the eye-liner yet, but I bought it because I like the thickness of the brush. - I shall let you know what it is like as soon as I try it out! For now though, I must say, I am very happy with these blushes. They have a strong, long lasting pigment, and so far, they don't seem to have aggrevated my skin in any way. - The one I wore today is called "granada", which is more of a "cherry-red" tone; whilst the peach one is more "orange" coloured.
I completed the look by applying mascara on my eye-lashes and some lip gloss on my lips. My mascara was a mix of L'Oreal's double extension mascara, and some maybelline mascara. Then I lined my lips to define their shape, before applying some dark-pink lipgloss in a "pencil format" by KIKO, which has lasted all day. - Despite the heat and sweating all day!
I really hope you have enjoyed this very simple make-up post.
I plan to do more of these, and might even make a video-tutorial...
What is your usual everyday make-up routine?