A Work Look
This is a look from months and months ago. Don't ask why I hadn't posted it sooner. I really don't know! I just remember being told how elegant I looked that day, all day.
Este es un look de hace meses y meses. No preguntes por qué no lo he publicado antes. No tengo ni idea. Sólo me acuerdo que ese dia la gente no dejaba de decirme lo elegante que me veia.
I'm not all that into white blouses thanks to spending my entire life, from the age of five to sixteen, trapped in them. Yes, I went to schools were a school uniform was mandatory, and they all included a white blouse.
No soy muy fan de las blusas blancas gracias al hecho de haber vivido mi vida entera, desde los cinco años hasta los dieciseis, atrapada en ellas. Si si. Fui a colegios donde un uniforme escolar era obligatorio, y todas incluian una blusa blanca.
I liked this particular blouse because it was the least school-uniform-like one I had come across in a long time, and which was available in a plus size at MS Mode. You can't really see it in these pictues, but there is a really cute ruffly detail going on in the shoulder area, which I absolutely LOVE!!
Esta blusa en particular me gustó porque es la que me parecia que tenia menos parecido a las blusas blancas de los uniformes escolares, y que venia en tallas grandes. Es de MS Mode, y llevaba mucho tiempo buscando una blusa blanca de este estilo.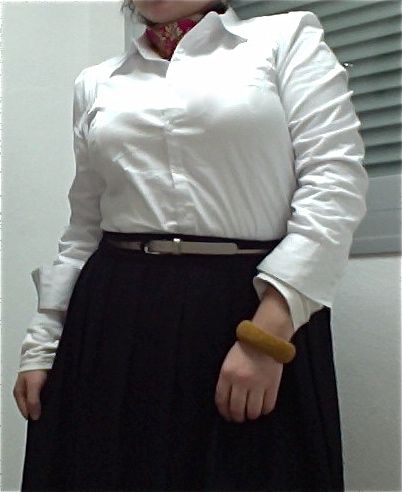 It was also available in black, but I didn't like it in black as I thought it looked "cheap".
Tambien la había en color negro, pero no me gustó porque me parecia que se veia muy barata.
Blouse: MS Mode
Skirt: Dorothy Perkins
Belt: H&M
Scarf: Bijou Brigitte
Bracelt/Bangle: Evans
What do you usually wear to work???
Cómo te sueles vestir tu para ir a trabajar???
Lots of Luv,
Rebequita Rose