Aztec Print and Pom Poms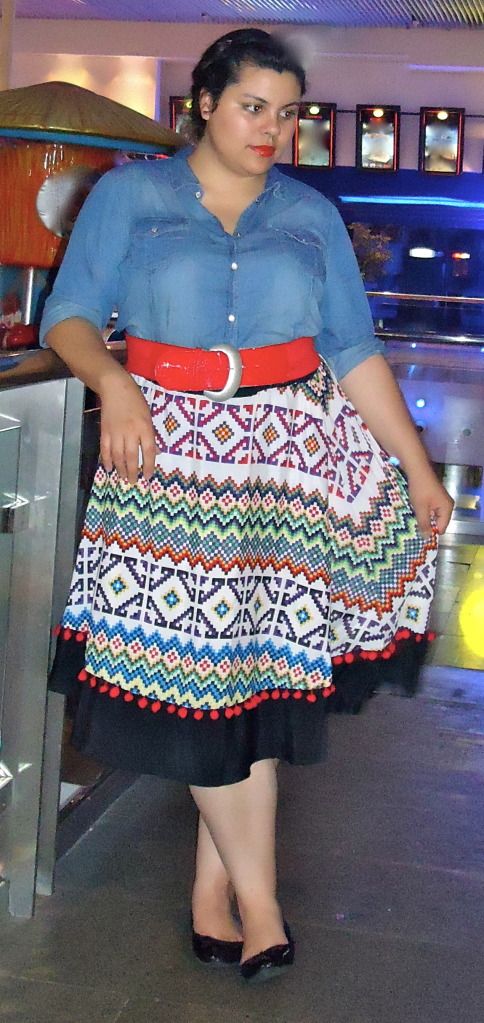 Hi Everyone! How are you doing?
After a week of crying and praying my mother seems to be back on track. Her test results have come back negative and she appears to be feeling better. The doctors want to repeat the tests, and do further investigations, but there doesn't seem to be any immediate dangers right now.
Thank you to all of you who prayed and thought of us
.
* * *
**Por favor discuplen las falta de acentos y ortografia. Gracias**
Hola Chic@s! Que tal os va todo?
Tras una semana de llanto y oraciones, mi madre parece estar mejor. Los resultados de las pruebas han salido negativas y ella parece sentirse mejor. Los doctores quieren repetir las pruebas, y hacer mas investigaciones, pero no parece haber ningun peligro inmediato.
Gracias a tod@s los que han rezado y pensado en nosotras.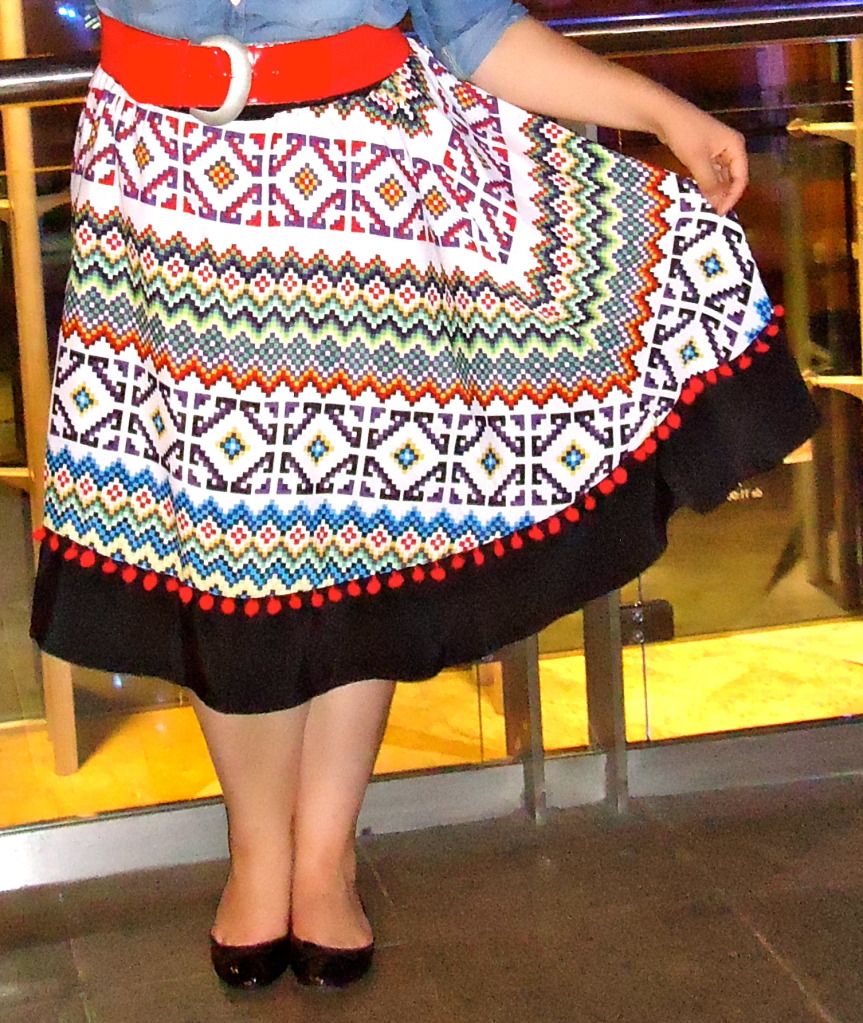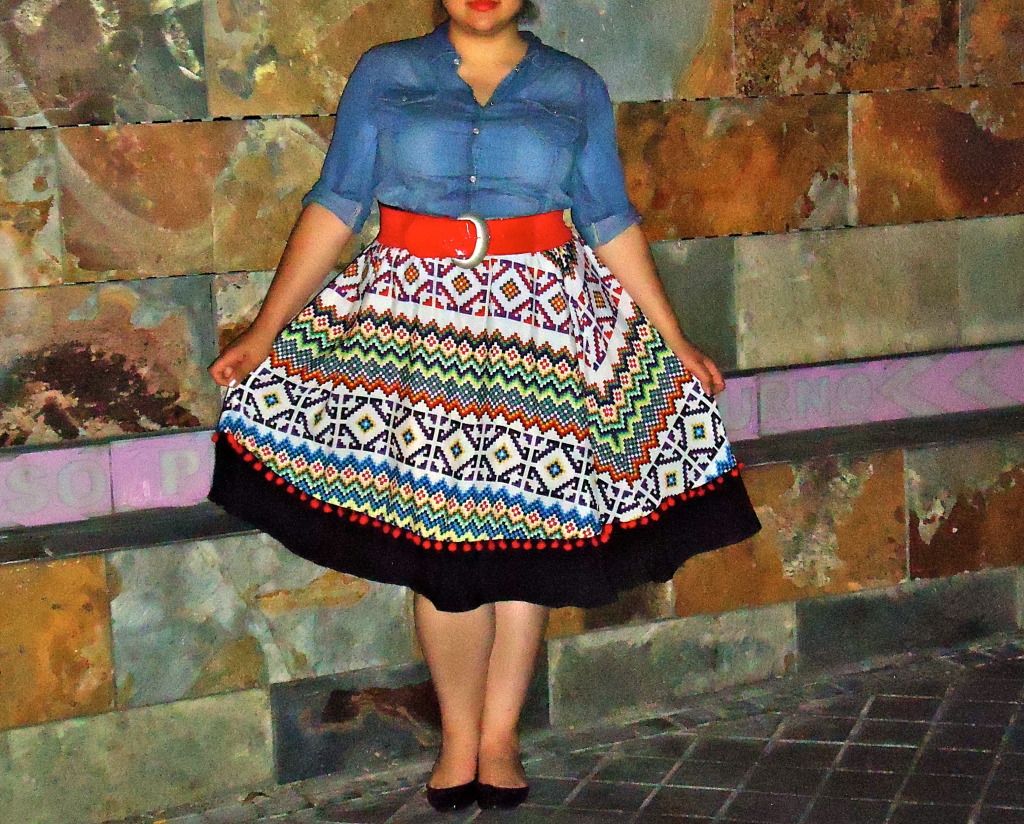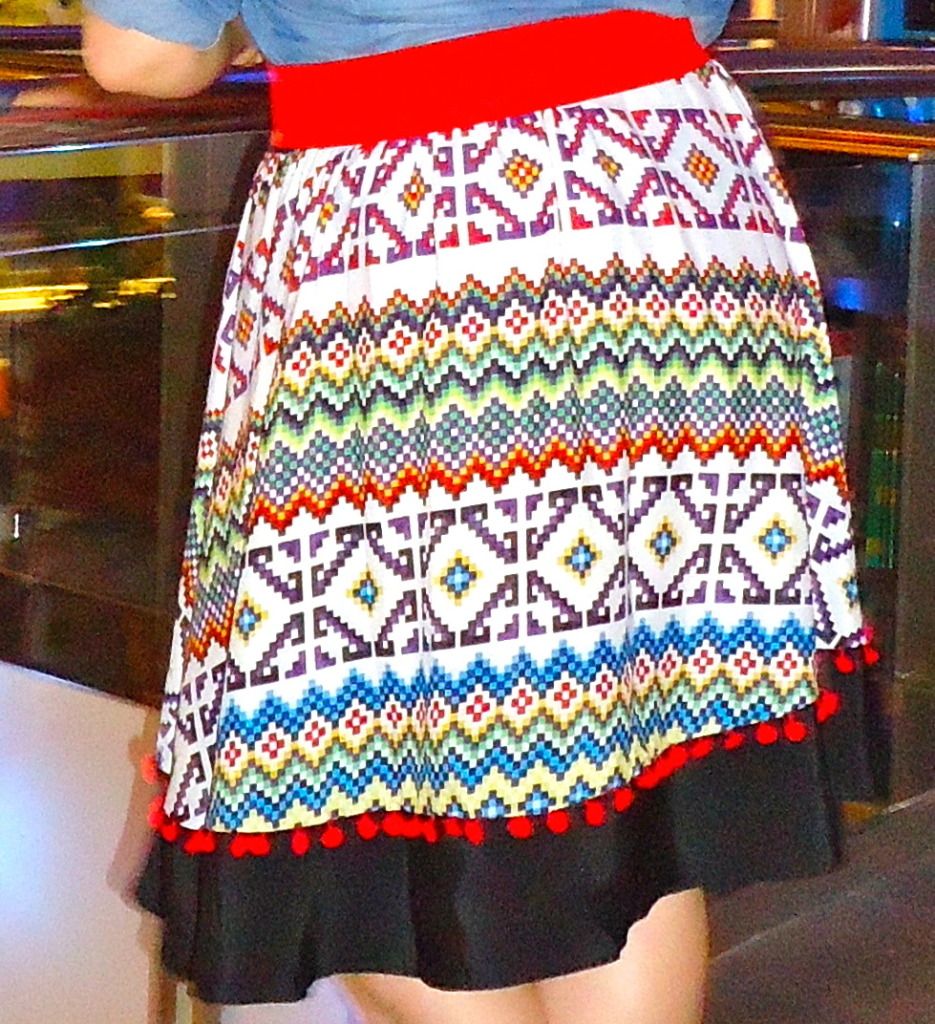 This skirt is one of my latest acquisition from ASOS Curve. I was in two-minds about getting it, but when I saw it was on sale, I decided to get it, and I have absolutely no regrets. It is worth every penny. It's a bit big on me, but I don't think it looks bad, and the belt helped it stay up.
Esta falda es una de mis prendas nuevas de ASOS Curve. No estaba del todo segura de si la deberia comprar o no, pero cuando la vi en las rebajas, decidi comprarla, y no me arrepiento en absoluto. Vale la pena. Me queda un pelin grande, pero no creo que se me vea mal, y el cinturon ha ayudado que se quede puesta.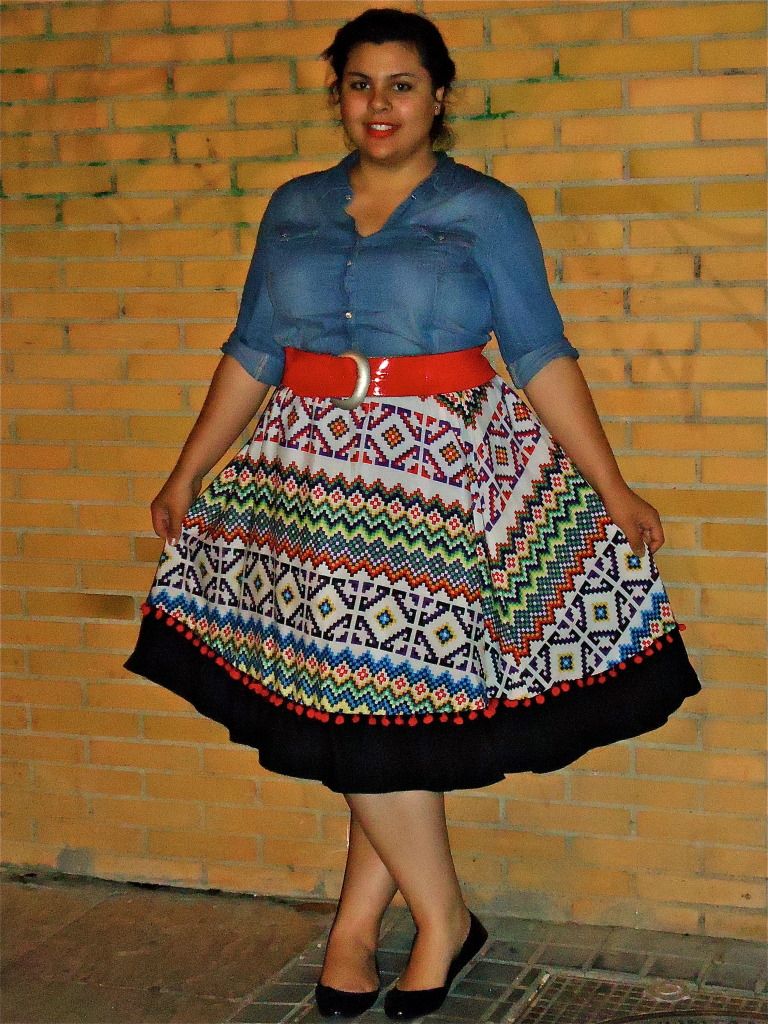 Before I continue, I must appologize for the poor quality of these photos. I'm not entirely sure why they are slightly blurry. They were taken in poor lighting, when it was late, and I was exhausted.
Antes de continuar, os pido disculpas por la pobre calidad de estas fotos. No se por que han salido un poco borrosas. Se han tomado con poca luz, cuando ya era tarde, y estaba agotada.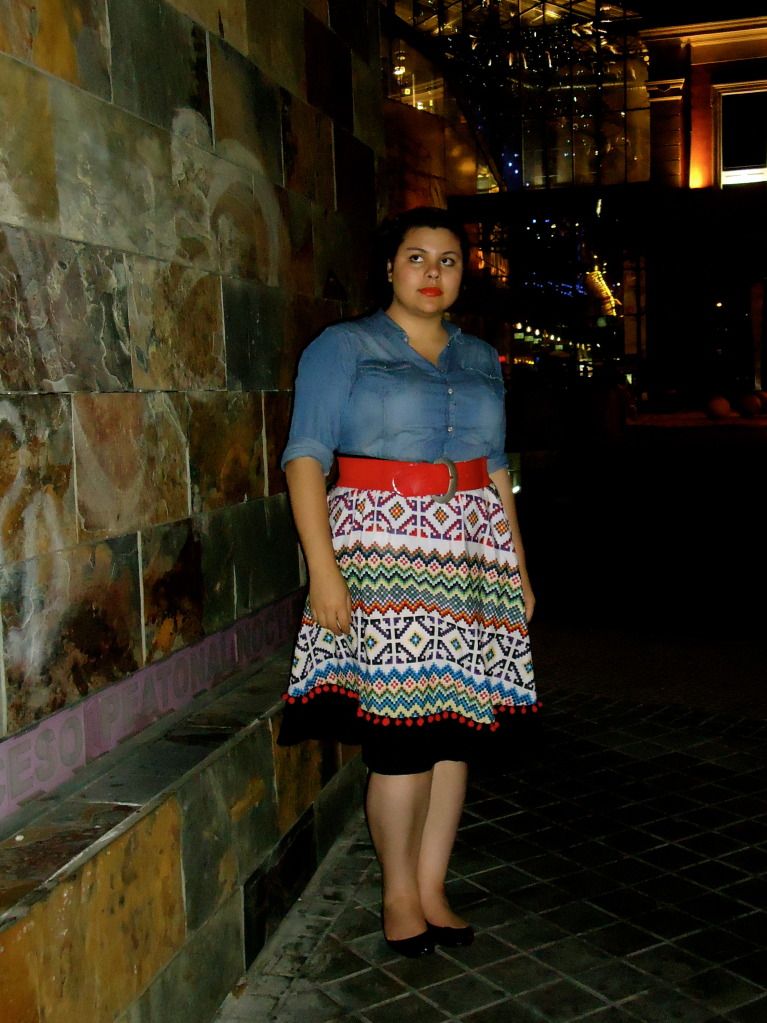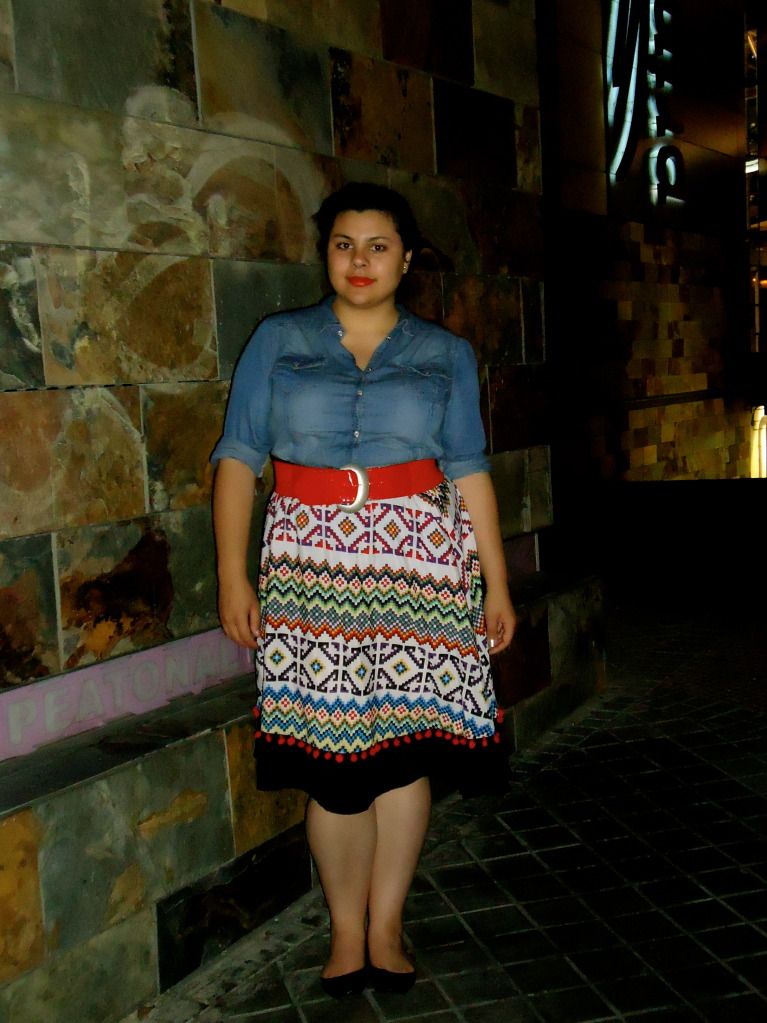 I thought that combining this skirt with my denim shirt and colourful accessories would make for the perfect girly summery outfit. - Right now, I am obsessed with red lipstick. I seem to be wearing it everyday, with everything!
Pense que el combinar esta falda con una blusa vaquera y complementos coloridos podian resultar en el look perfectamente feminino y veraniego. Parece ser que estoy obsesionada con pinta labios rojo. Es que parece que me la pongo todos los dias, con todo!
If you ask me, this skirt could not be any more perfect for the summer. It's cool and lightweight, which makes it fresh and comfortable, as well as being aestetically versatile. The sizing is also generous. You could easily fit two of me in this skirt when you expand the elasitcated waist to it's fullest capacity!
Si me preguntan, esta falda no podria ser mas perfect para el verano. Es fresca y liviana, que la hace frequita y comoda, mientras a la vez es esteticamente versatil. Aparte, la talla es muy generosa. Dos de mi podrian entrar en esta falda con facilidad cuando la cintura, que es elasticada, se expande a su potencial maxima!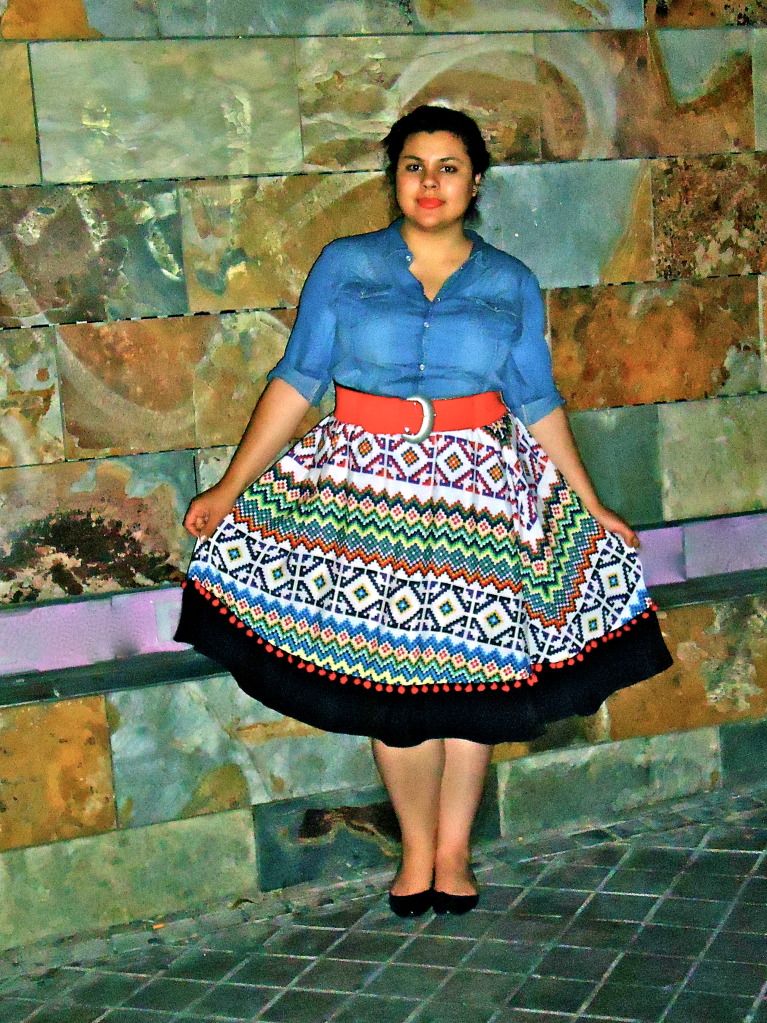 If you would like to see another way to style this skirt, check out LuAnne's blog:
Weeshas World
Si te gustaria ver otra manera de combinar esta falda, mira el blog de LuAnne:
Weeshas World
Until next time... Stay fabulous!
Hasta la Proxima... Siguan siendo fabulosas!
xxx