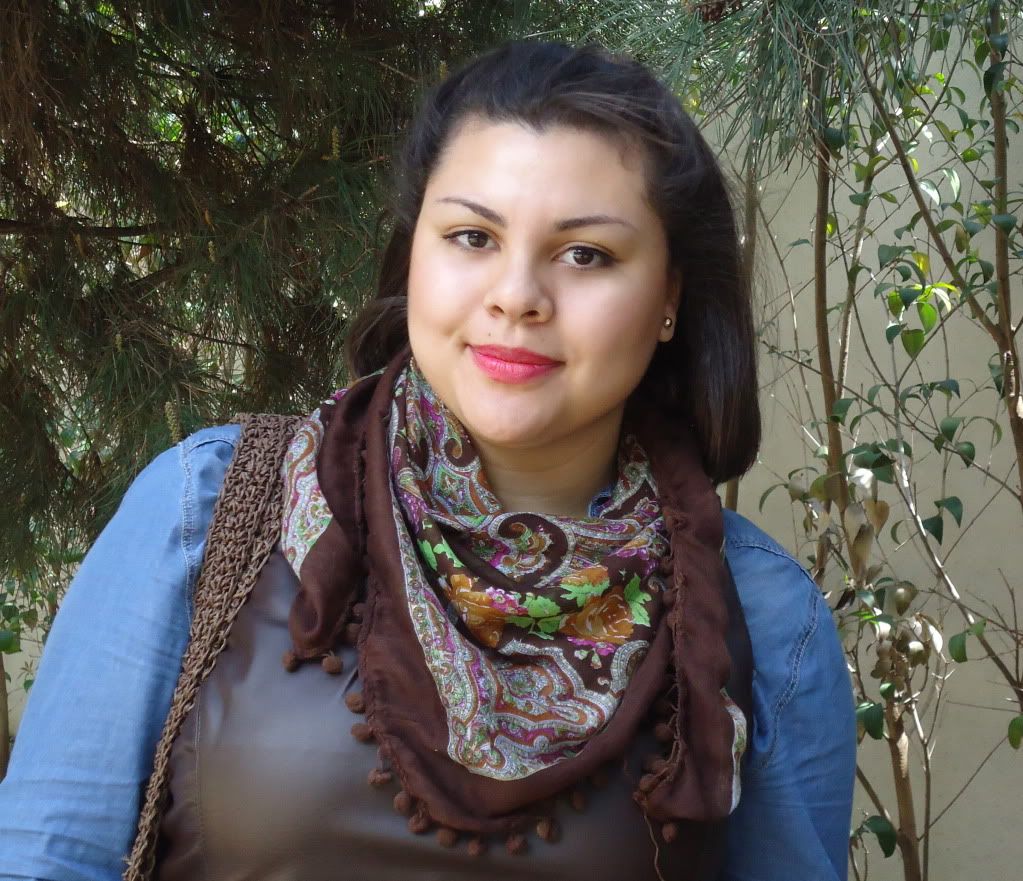 I can't remember when Mother's Day is in the UK, but here in Spain it's on the first sunday of May.
May is also the month of the Virgin Mary, so today has an extra special meaning for those of us who are christian, or at least catholic. Today is a day to give thanks for our biological mothers, as well our heavenly mother, the Virgin Mary.
No recuerdo cuando es el día de la madre en el Reino Unido, pero aquí en España, es el primer domingo de Mayo. El mes de Mayo también es el mes de la Virgen, así que hoy tiene un significado especial para los que somos cristianos, o por lo menos, católicos. Hoy es un día para dar gracias por nuestras madres, y también nuestra madre en el cielo, la Virgen Maria.
***
Dress / Vestido - Kanak via El Baul del Botero
Denim blouse /

Blusa Vaquera

- H&M (Mama)
Shoes /

zapatos

- Amichi leather collection
***
Today's OOTD is very similar to one I wanted to feature a while back, only on that day, I didn't have anyone around to take any full length photos, so I made my accessories the focus of that post. A few of you told me you wanted to see the dress full length, and since someone was around to take some full length photos today, here you have it.
Mi look del dia de hoy es muy parecido a otro de hace un tiempo, solo que ese día no había nadie que me pudiera sacar las fotos a cuerpo completo, entonces puse el énfasis en los complementos/accesorios de ese post. Algunas me comentaron que querían ver el vestido a cuerpo completo, y como hoy había quien me sacara las fotos a cuerpo completo, aquí lo tenéis.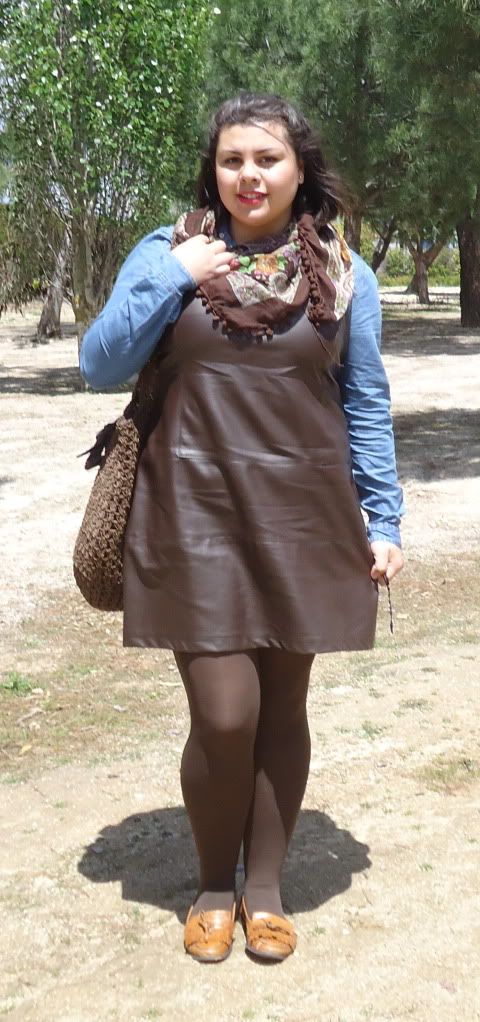 Unlike the other day, today I kept the accessories simple and subtle, sticking to browns...
En diferencia al otro día, hoy mantuve los complementos sencillos y sutiles, con todo en tonos marrones...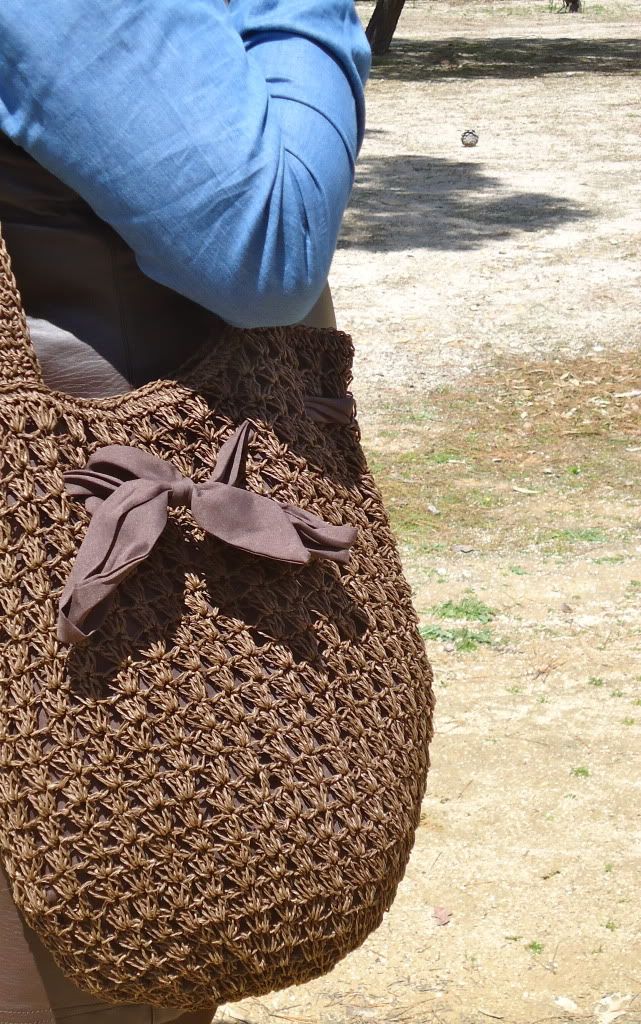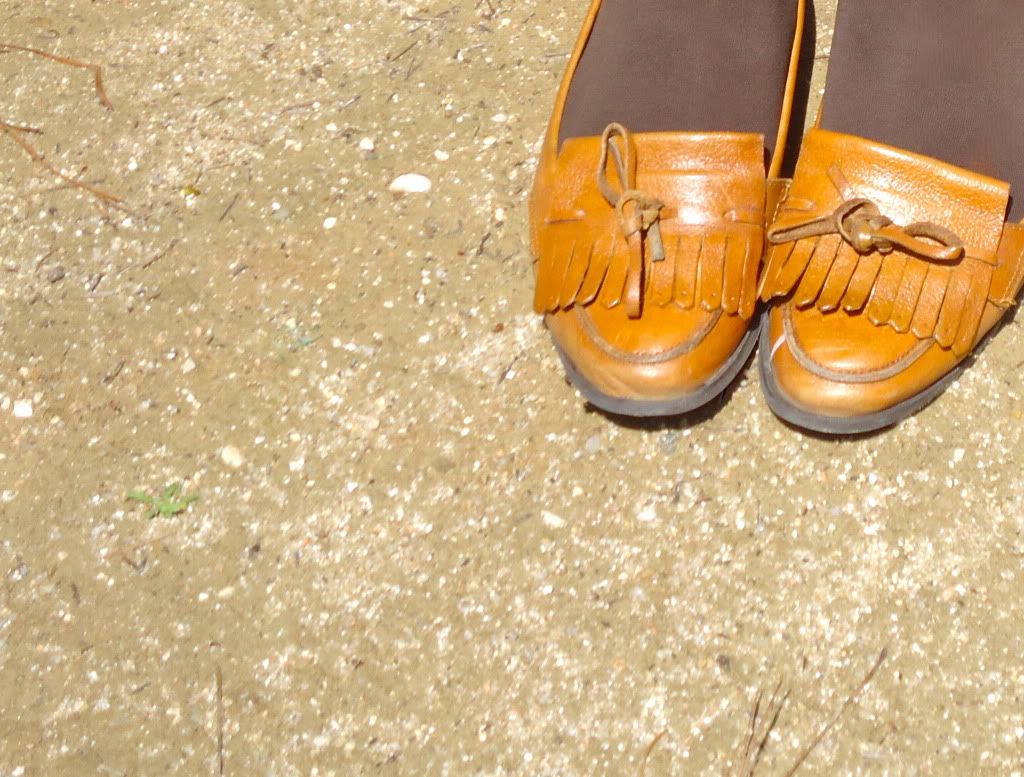 Sadly, I couldn't be with my mother today because she is at home, in London; but she is going to fly out to Madrid for a few days next week, so I will get to spoil her then. In the meantime, I've been busy preparing one of the spare rooms for her stay with me at mine. The house I'm living in at the moment really isn't a pretty house. At all. - But there is one half decent looking bedroom, which is my ex-housemates room. I've chosen it for mum's stay, and then I plan to move into it once my mums gone. I actually really miss my housemate. She was so lovely and funny, and easy-going... It's weird not having her around, even if we do talk/text each other almost everyday. Anyway... I've done the room up, and rearranged the furniture to make it more homely, since I can't offer luxury right now. I still have things to do to the room, but I think I like the way it's going.
What do you make of my efforts?
Lamentablemente, hoy no he podido compartir con mi madre porque ella esta en Londres, en su casa. Pero va a venir a Madrid la semana que viene, y entonces podré concentirla. Mientras tanto, estoy liada arreglandole una de la habitaciones de mi casa para ella. La casa en que vivo ahora, la verdad, no es bonita. Pero hay una habitación que esta medio-decente, y se la de mi antigual compañera de piso. Por cierto, extraño mucho a mi ex-compi de piso. Es tan maja, cómica, y tranquila... Es raro no tenerla alrededor, aunque hablamos / nos enviamos sms casi a diario. Bueno, en fin... He estado acomodando la habitación. He re-organizado los muebles para hacerla mas acogedora, ya que no puedo aportar lujos. Aun faltan cosas que hacer, pero creo que me gusta por donde va la cosa.
Queé os parecen mis esfuerzos?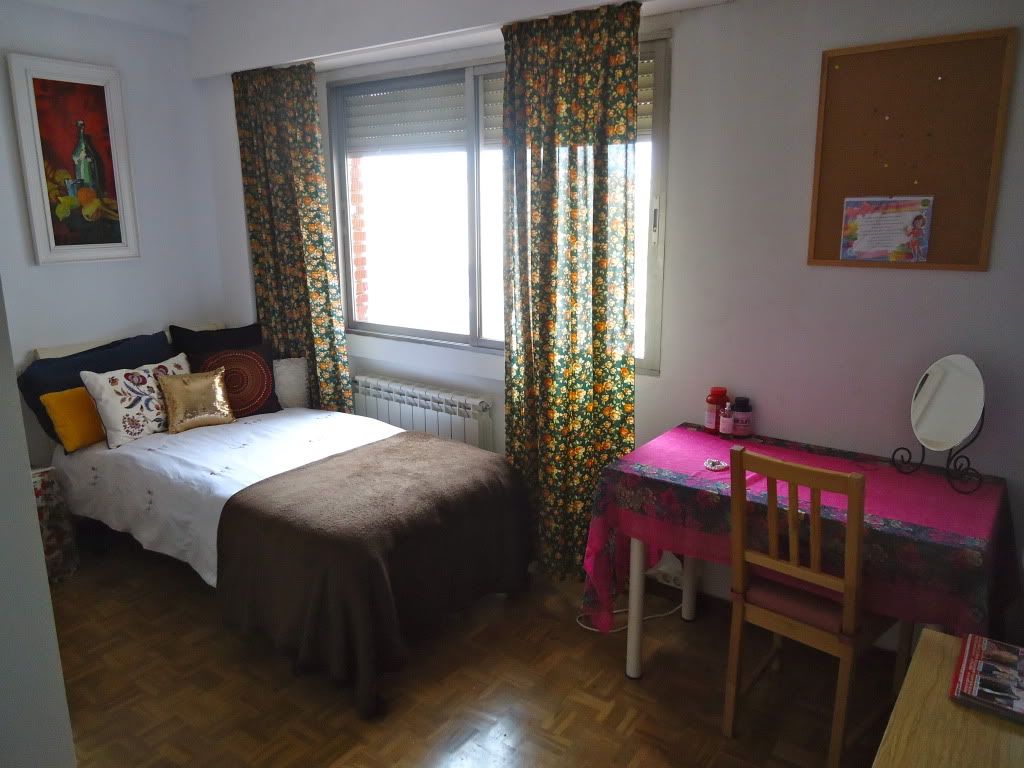 All the "table cloths" are actually scarves... And all those blankets and things you can see in that "cupboard" thingy, are my landlady's, which I plan to remove from the room.
Esos "manteles", en realidad son bufandas... Y todas esas mantas y cosa que veis en el "armario" ese, con de la dueña y tengo planeado sacarlas de la habitación.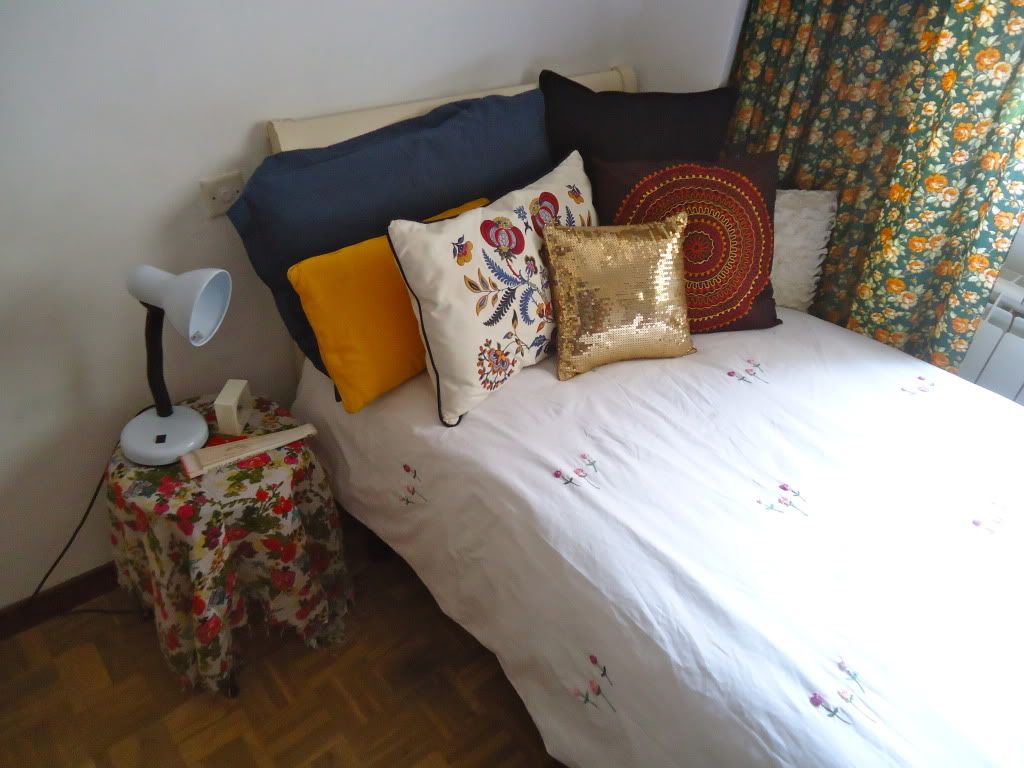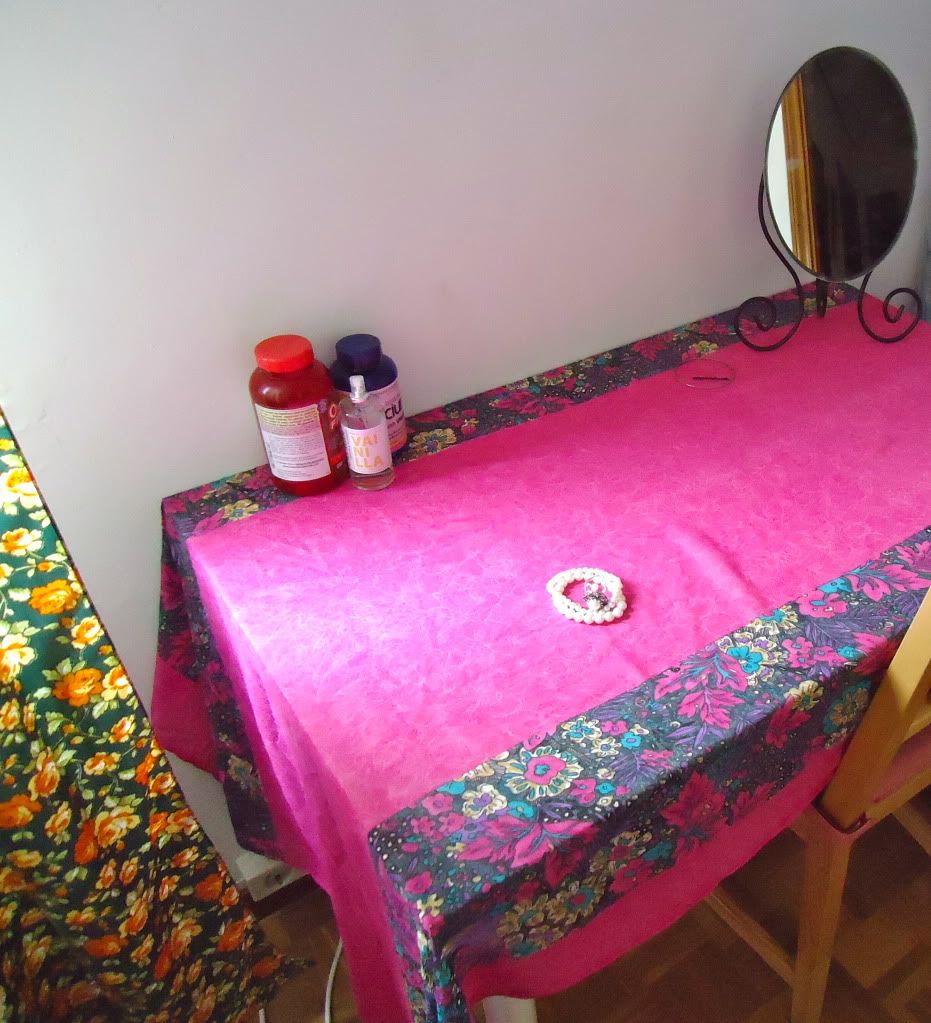 What have you done for your mothers on mother's day?
Qué habéis hecho para el día de la madre?
xox