Escaping the City
This the outfit I wore yesturday,
to go for a morning stroll around a small village
just outside Madrid where a friend of mine has their second home. We had a giggly girly night-in that consisted of a film, chocolate, facials and manicures. It was so lovely to get away from all the hussle and bussle of the city, even if it was a rather brief get away. We were back in Madrid centre by midday, and in the evening I had the pleasure of going to the
Da Vinci Exhibition
with some other friends. I already knew quite a fair bit about Leonardo Da Vinci, and I didn't feel I learnt anything new about him. However it was interesting to see how his art skills influenced other artists, and to also see a few of his ideas and inventions "brought to life" - which by the way, have influenced, or inspired modern civilization.
* * *
Top - Asos Curve
"Under" top (It was chilly) - H&M
Jeans - H&M+
Black Leather boots - El Baul del Botero
Necklace - 1001 noches via El Corte Ingles
Going back to the outfit...
This necklace is one of my favourite accessories right now.
It's such a shame that the photos don't do it any justice!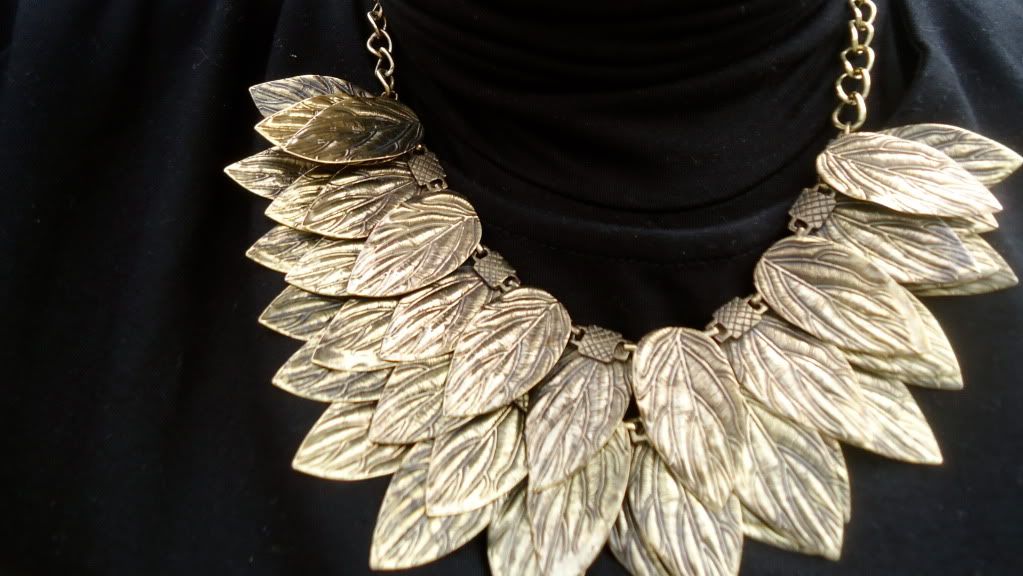 The jeans - the only pair I own right now - are from H&M+. You won't often find me wearing jeans, but I can't deny the fact that they are true life-savers, and should be a staple basic in every closet. I have been wanting a pair of light blue jeans for ages. I had been hunting in shops for months, but found nothing decent in a plus size. Everywhere I turned were hideous jeans with unnecessary details, like "faux" crystals and/or floral stitching. If you ask me, such details are tacky and do nothing but cheapen the garment. I just cannot understand why anyone would bother adding any of that to their clothes, but whatever.
These jeans are the right colour, and they are free of all tacky, cheapening details. However, they do stretch a lot, which means I need to hold them up with a belt, - else they will head south, making them incredibly uncomfortable, and creating horrid wrinkles around the legs, - and they only look right with longer tops because they fit so loosely all the way around the entire hip area. - Being an apple doesn't help the issue either! I bought them for my trip to Seville this easter. I knew it was going to be a busy and fast paced get away, and I wouldn't have time to change over and over again each morning, so I pre-planned almost every outfit I wore, and tried to stick to simple basics, combined with dressy accessories on those ocassions when I wanted to dress up a simple, basic look. Since the weather was going to be unpredictable, and there were no overly formal events to attend, (like say, a royal wedding?), jeans (dressed up, or dressed down), were appropriate attire.
Actually, I have about five days worth of outfits to share with you from that trip, so please bear with me as I will eventually share those looks with you.
*Promise*
How do you wear jeans?
Until next time,
Much Luv',
Rebequita Rose
xxx