Oh, Happy Day!!!
This is what I wore today
.
This was actually a last minute put-together throw on which I was actually really unhappy with, but as I had no time to change, I went with it and crossed my fingers. I was so unhappy, that I took these photos quickly and e-mailed them to one of my besties in London, (Sarah), partly to off-load, and partly to get her opinion. She replied soon after and said she thought it was cute.
* * *
Cropped top - H&M
Belt - Baul del Botero
Tutu - H&M
Black leather boots - Baul del Botero
Deciding what to wear this morning was an especially big deal because the other day
I was asked to be the presenter of an event at work today
.
The children - my students - were going to perform to the audience, and the audience, was their parents. Luckily the presenting went brilliantly, and I got showered with compliments from work-mates and students alike
about my choice of outfit for today!
I don't usually wear any make-up, but as I knew today was going to be full of parents taking photos and making videos,
I thought it might be a good idea to bother wearing something on my face
, but keeping it
natural and tasteful
; and here is the result: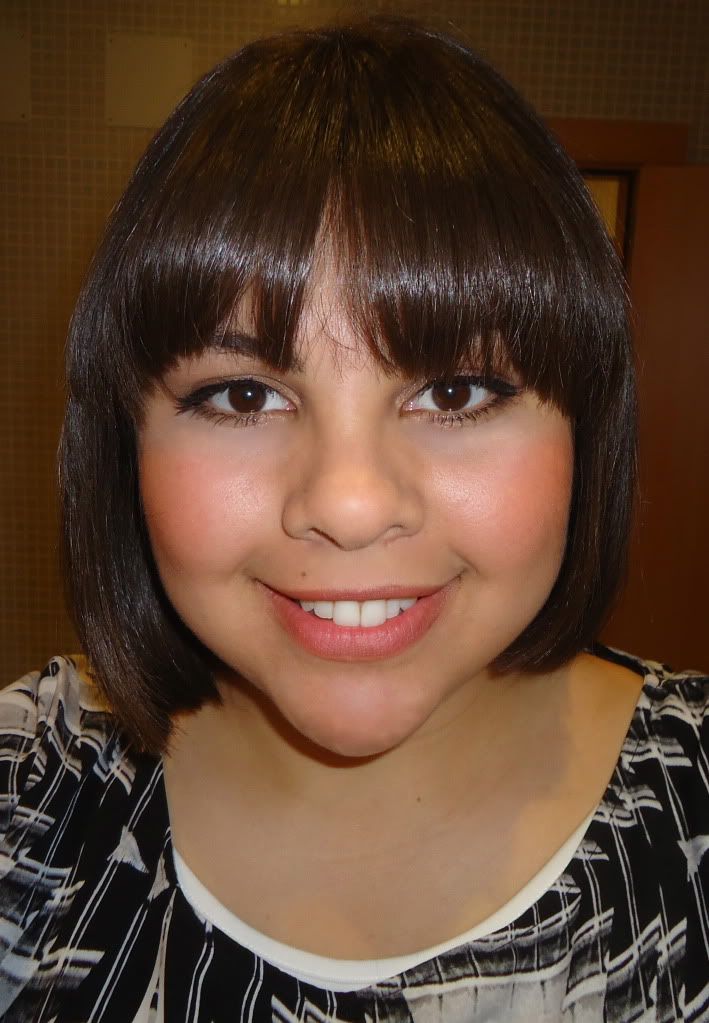 And by the end of the day, it looked liked this:
I actually have acne-prone skin, which most of the time is clear because I have a very precise and effective daily skin-care routine for my particular skin type.
However, I do have a T-Zone which no matter what I do, I can't seem to keep it under control - so
if anyone has any T-Zone tips, please send them my way!!
Also, I have been stressed these last few weeks, my skin has been on the verge of breaking out, which you can see from looking at the pictures. I tried to "photoshop" the shine on my chin using iPhoto, but it didn't come out right.
So why was I so stressed?
It's a bit of a long story about a problem of mine that had been dragging out for years, but I will try to keep it short. I'm sure I've mentioned this before, but in London I used to work as an actress. No, I wasn't famous or anything like that, although I did meet and work with many famous people. I did a couple of one-off small parts on TV shows, and some photographic work for a particular magazine, and a lot of extra / walk-on work on TV shows, commercials and films for a bit of pocket money. It was all very fun and exciting, and I have a lot of stories to tell about my experiences, and I feel very grateful to have had those opportunities. The work itself wasn't the problem though. The problem, to cut a long story short, was in regards to my status as being self-employed - (which all actors are) - in the UK. I stopped doing that type of work eventually, but it wasn't planned. Then, after graduating from university, I was having a hard time finding a job, so I decided to move to Spain for the second time, where I knew that as a native english speaker, I'd definitely be able to get a decent job. I informed the InLand Revenue / HM Customs people about my situation, but as I didn't have an exact date for when I had last been self employed, I was unable to get myself removed from the self-employment register, change my contact details, stop them from sending my Tax Return Forms, or anything. So, to cut a long story short, they kept sending me mail to my mothers house, which included numerous fines for not filing a tax return. Then my mother recently paid one or two of my fines, and suddenly a bombardment of fines and threats starting arriving at the house almost daily, which was allegedly followed up by a debt collector showing up at her house in the middle of the night despite the fact that I do not live there and I told the Tax people so ages ago. - Although there are doubts about who that man was and where he was coming from. So I wrote yet another letter, explaining myself once more. That was over a week ago and there had been no reply. Until today. My mother told me I had gotten mail from the "tax people" (as we call them at home), and as she read the letter to me over the phone, I literally burst into tears of joy. The letter told me they had looked at my records and had seen that I had contacted them many times to try and resolve the issue. They also saw that I had not been self employed for several years, so they have cancelled all my fines, accepted an inexact date for when I stopped being self-employed, taken me off the self employment register, confirmed I do not need to take any further action, and then they apologised for all the stress they had caused me. Oh, and they will give my mother a full refund on the fines she paid for me out of fear.
I can't find words to explain the joy and relief I feel right now, after years of speaking to deaf ears and consequently feeling petrified and incompetent. It actually feels almost surreal. God has certainly been listening to my prayers and answered every single one. Never doubt the power of prayer.
Moving on... I do remember promising you guys that I'd show you
the wallpaper at my new house
. I have never liked the wall paper at my new house, and I have told the landlady so, but she has prohibited anyone touching the walls, so we have no choice but to grin and bear what there is! In two of the other rooms, this is what the walls look like:
And in my room...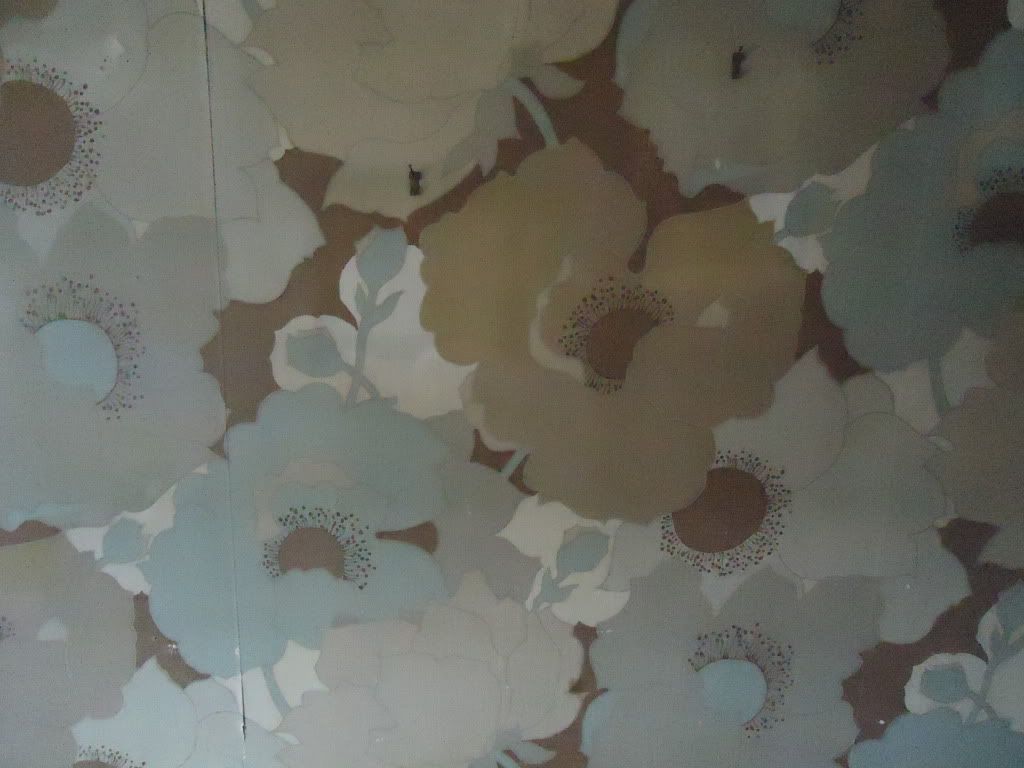 As the wallpaper in my room isn't particularly dark, or bright, I can just about tolerate it. I don't think I'd survive in either of the other rooms. The one with the red wallpaper has two beds which I find odd, and the one with the brown paper is just a small dark room, which isn't helped by the wallpaper. I'm never home much anyway, so really, it's not that big-a-deal, but I did come close to not renting this place simply because I hated the decoration in general - especially the wall paper - and the landlady doesn't see what's wrong with any of it. (She also sees no problem with her coming over without prior warning to show rooms, including our rooms so she can boast about the views!!! - But that's another story). I guess this was probably a beautiful and fashionable home once upon a time, but it has been decades since that was the case, and a facelift for the house wouldn't go astray; but I only have a couple of weeks left before my contract expires, so why stress? Besides, despite the ugly wallpaper, and the intrusive landlady (who does not live with us), I'm glad I moved in here. I am a gazillion times happier and more comfortable than I was at my old place, and I have a fab and fun housemate. Sadly, her contract expires at the end of this month though, and I am sad to see her go. I hope whoever moves in next (if anyone) is at least half as nice, laid back and fun as my current housemate!! - Although with decor like this, and the constant sense of someone having been in the house and finding things moved around - amongst other things (but no thefts) - the landlady is always going to have trouble finding, and holding on to tenants. I have told her this, but she is blind to reality. Oh well. It's her business what she does; not mine.
So all in all, things are going fantabulously at the moment!!
I hope you say the same!!
Until next time,
Much Luv
Rose
xox