Hi-Lo Skirt Look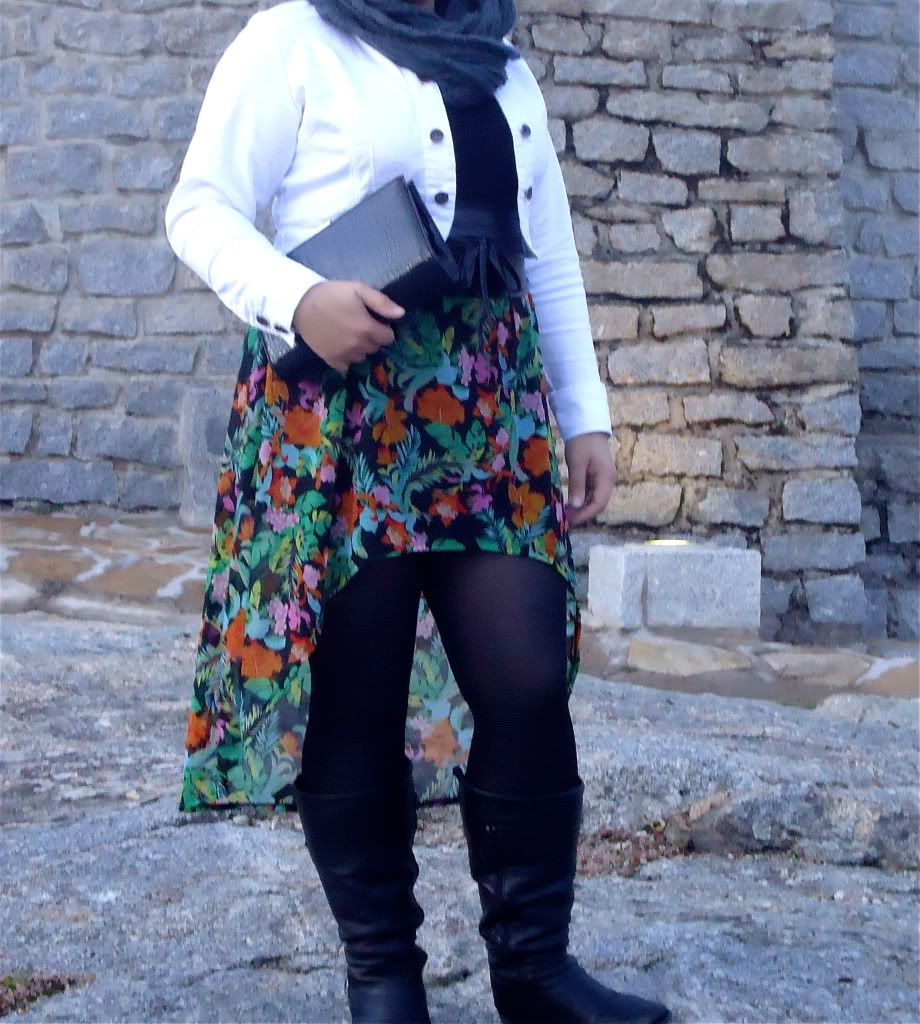 The hi-lo trend is one of my fave things right now. You get to wear a short skirt and you can still bend over without fear of "exposure". YEAY! And I think it looks super cute too, so it's a win-win situation if you ask me *smiles*
La moda de corto-y-largo (no se como se llama en Español), es una de mis cosas favoritas en este momento. Te puedes hechar el lujo de ponerte una falda corta, y a la vez de puedes agachar sin preocuparte de ser "expuesta". Tambien me parece una moda mona, asi que lo tiene todo en mi opinion. *sonrisas*
Cropped denim jacket /

Torera
- MS Mode
Hi-lo Skirt /

Falda

- Lefties
Wrap around belt /

Cinturon faja

- Kanak via Baul del Botero
Black high neck top - H&M
Scarf /

Bufanda

- El Corte Ingles
Boots /

Botas

- Baul del Botero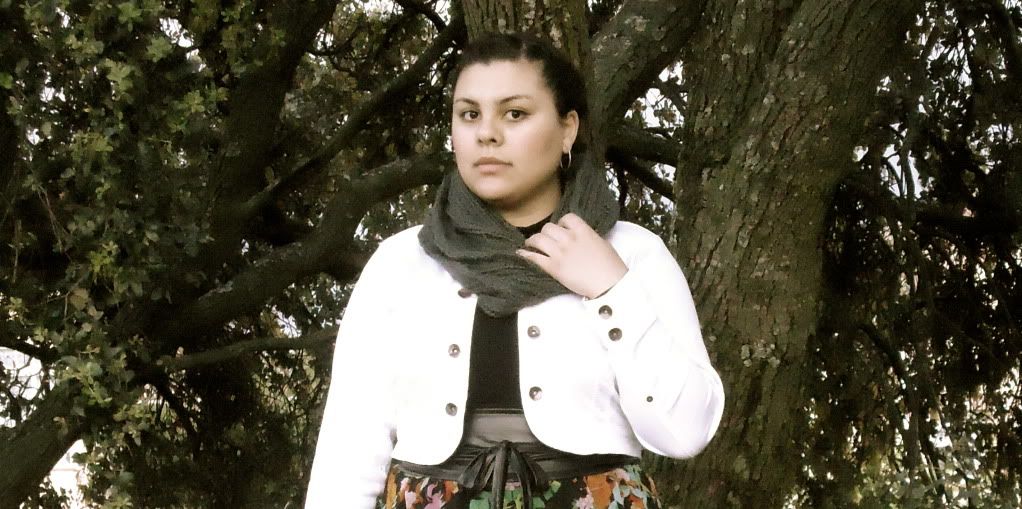 I really like that headshot (above) because I look sooooo much like my mum in it. I'm acutally a white-skinned version of my mum, with my dad's big almond shaped eyes. My mum is a very pretty and elegant lady with a beautiful inside, so I guess I can say I can look like her with pride.
Me gusta mucho esa foto (la de arriba) porque me parezco muchiiiiiiiisimo a mi madre. En realidad, soy una version en piel blanca de mi madre, con los ojos grandes en forma de almendra de mi padre. Mi madre es una mujer muy guapa y elegante, y con un interior precioso, asi que me imagino que puedo decir que me parezco a ella con orgullo.
I had actually been looking for a hi-lo skirt in the shops for aaaaaaaaages, but everything I found was too small for me. So when I found this one in Lefties, I was reeeeally excited!
How do you feel about the hi-lo skirt and dress trend?
As for my hair, after seeing photos of Natasha Moraes' gorgeous long hair...
Hacia tiempo que habia estado buscando una falda de este estilo en la tiendas, pero todo lo que encontraba me quedaba pequeño. Asi que cuando me encontré esta en Lefties, me ilusioné muchiiiiiisimo!
A vosotras que les parece esta moda?
En cuanto a mi cabello, tras ver fotos del precioso y largisimo cabella de Natasha Moraes...
I have been inspired to grow my hair out. This means very, very little heated styling and straightening, for atleast six months if I want to see a healthy and significant amount of growth. My hair grows alot in a very short space of time, the problem is, that I over straighten it, and it either gets damaged, or I stretch the curl out so much on such a regular basis, that it looses the curl; in a bad way. When I was a teenager, I used to braid my hair at the fronts to avoide heated styling, until it had grown out, but as I got older, I didn't feel comfortable braiding my hair anymore. I always think of it as a "childish" way of styling hair. Yesturday, I proved myself wrong. What do you think?
...me siento inspirada a volver a intentar dejarme el cabello crecer largo. Esto va a requerir muy, pero muy, muy poca aplicacion de calor sobre mi cabello, por lo menos durante seis meses, para poder ver un crecimiento verdaderamente significativo, y que el cabello esté sano. Mi pelo crece mucho en poco tiempo. El problema es que me lo aliso demasiado, y me lo daño, o estiro tanto los rizos, que pierdo el rizo para peor. Cuando era adolesente, me hacia trenzas de arriba hacia abajo, o de lados, pero en cuando me ido haciendo mas mayor, lo de las trenza me incomodaba, porque me parece mas cosa de niñas, no de mujeres. Pero ayer creo haberme comprobado equivocada. Qué les parece?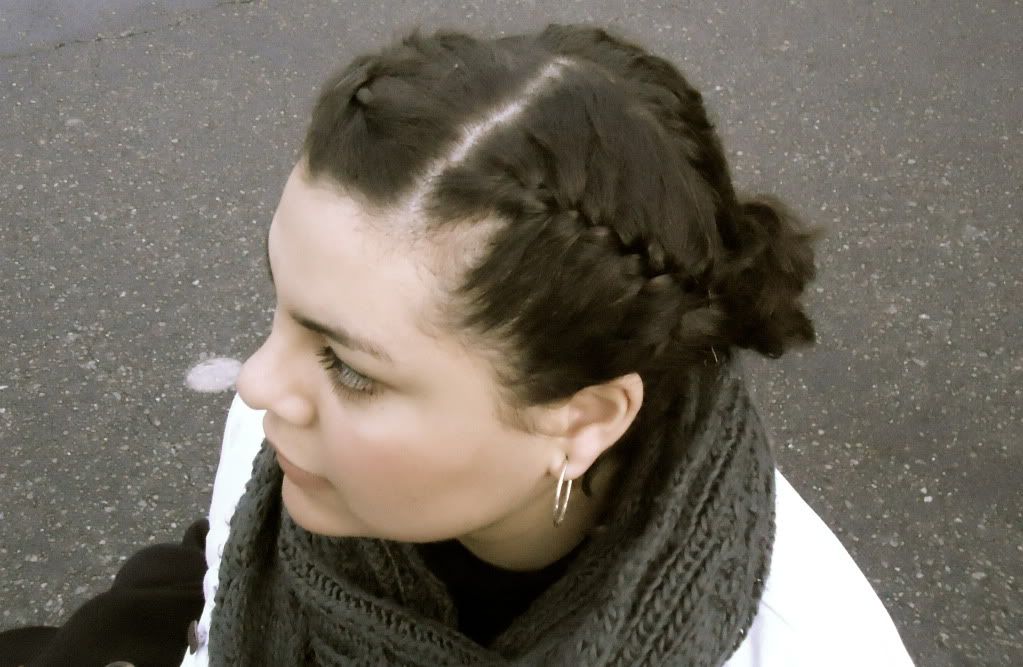 I have a lot of outfits (and stories) to share with you guys, so please stayed tuned!
Tengo muchos looks (e historias) que compratir con vosotras, asi que por favor no se me pierdan!
Much Luv',
Rebequita Rose
xxx