It was about time!!
This is a dress I have been meaning to share with you for years. Literally, years. I remember seeing it in store, loving it and still not being sure about it. I wasn't as "confident" as I am now, and I was a little put off by the length and shapelessness of it. However, the fabric was a winner, and with some supportive words from friends, I bought the dress and have never looked back.
This dress is definitely one of my "life-saver" pieces. If I want to look like I've made an effort, but might not have the time to actually make an effort, this dress is ideal, mainly due to the fabric. So when I had no idea what to wear to mass on sunday, this dress kicked-in to work it's magic!
With my recent house-move, I have gotten the opportunity to revise the contents of my wardrobe. I think it's fair to say my wardrobe is pretty "complete". - Especially since I shop for clothes a lot - as I am very good at finding a bargain, and I also pretty much hoard my clothes. I hoard them out of fear of never finding the same piece again in my size, at such a good price and that will fit so well. I guess it's a fat-girl-complex-hangover. No matter how much more confident I am now about being a big girl, my acute awareness of the limitations in plus-size fashion and how plus-sized fashion is usually high-priced, combined with my constant need to try and dress/look my best possible, makes me afraid to clear out the contents of my wardrobe. Just in case! For me to get rid of something, I have to have not worn it in a very long time, or it would have to be damaged somehow, or it would have had to have shrunk in the wash. My closet is full of pieces that haven't seen the light of day in a very long time - some things have never seen the light of day, period. However, since reviewing the contents of my closet with this move, I am re-thinking ways to wear clothes I had either forgotten about, or simply ran out of ideas of how to style them.
And when it comes to this particular dress, what I love about it the most, is the fabric. I love the design and feminine softness of it.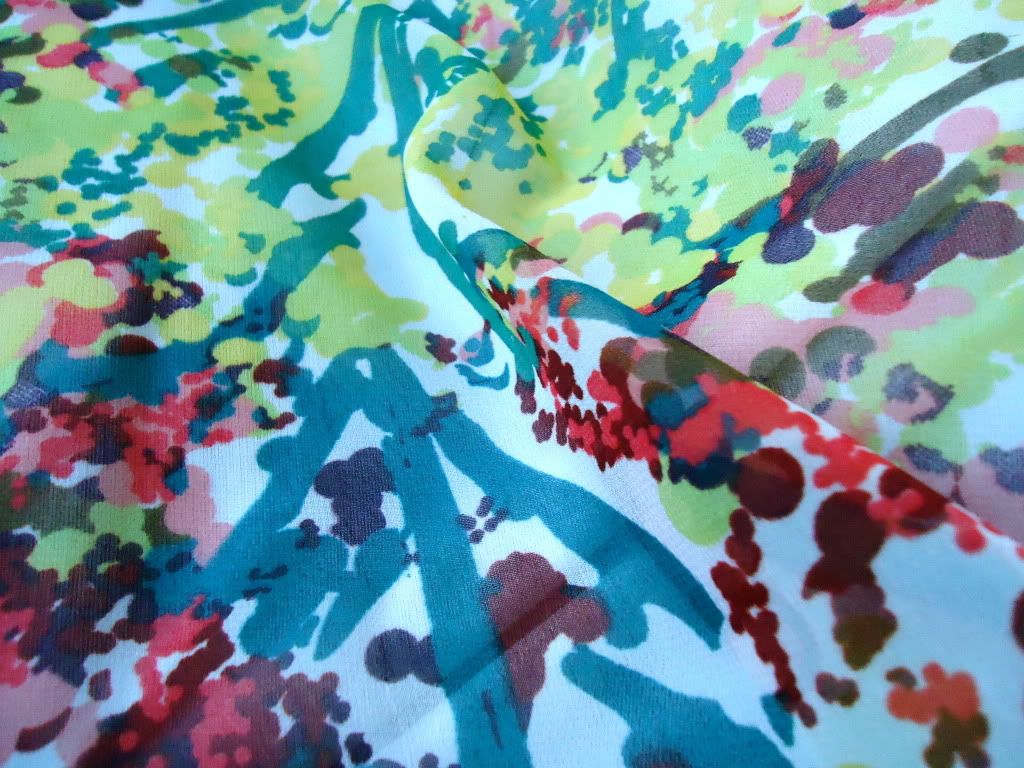 I love the contrast this dress makes when teamed up with red, hence my choice of red accessories on sunday. - Eventhough they say that red and green should never been seen together. The necklace is another "oldie" I have been wanting to share with you on my blog in a very long time!
I recall, about a year or two years after purchasing this dress, stumbling across this:
Looks like the same fabric to me, just slightly different dress designs.
I love the way the dress has been styled in that last photo!
I am wondering why the dresses in the "catalogue" are so much more expensive than my H&M dress, if, the fabric is the same fabric...
I guess I need to familiarise myself with Cuplé!!